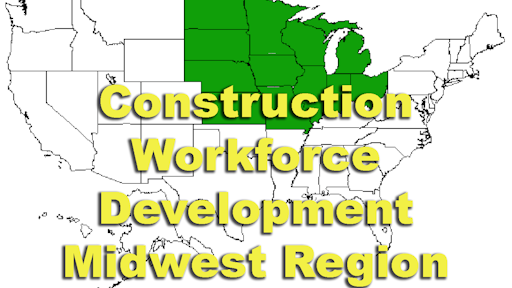 Associations, contractors, schools, unions, governments and everyone in between are making efforts in every state to develop the construction workforce and fill the shortage in the construction industry's labor pipeline.
Construction Craft Professional Demand through June 2018
Here is a sampling of programs, schools and initiatives in the Midwest region with the goal of developing the construction workforce.
Illinois
Chicago Women in Trades
Founded in 1981, Chicago Women in Trades (CWIT) was created to help increase the number of women in typically male-dominated trade industries. As part of its services, CWIT offers its Technical Opportunities Program, a pre-apprenticeship program to prepare women for success in construction apprenticeship programs and related nontraditional occupations.
Started in 1987, the Technical Opportunities Program is a 12-week, 180-hour course that includes math, physical conditioning, basic construction skills, job readiness skills, hands-on experience and test preparation.
The program — which is free of charge to participants — serves an average of 75 women annually.
Indiana
ABC Indiana/Kentucky Apprenticeship Program
Certified by the Federal Department of Labor Office of Apprenticeship and NCCER, the ABC Apprenticeship program is a two- to four-year program (depending on the trade) that requires participants to obtain 8,000 hours of on-the-job learning.
Training facilities are offered throughout Indiana and Kentucky. Classes either meet once a week in person and include a once-a-week online component, or classes meet two nights per week without an online component.
Graduates receive their Journeyman card and are registered with the U.S. Department of Labor. ABC apprentices also receive an Associates Degree in Science Career/Tech (A.S) degree from Vincennes University.
Indiana Plan for Equal Employment
The mission is to increase the low numbers of minority workers in the union building trades. The Indiana Plan for Equal Employment hopes to achieve its goal through services for both contractors looking to find recruits and minority and women workers looking for jobs and job training for Indiana's union construction industry.
The Indiana Plan is the only pre-apprenticeship program endorsed by the Indiana State Building Trades and has been around since 1970.
The Indiana Plan works with more than a dozen building-trades apprenticeship programs as well as construction contractors looking for assistance in finding and training minorities and women for construction jobs. The not-for-profit corporation also helps contractors stay in compliance with applicable federal mandates related to hiring.
The Indiana Plan also works with those who complete its program to help place them into construction jobs or apply for apprenticeship positions.
Iowa
Hawkeye Community College Training Programs
Hawkeye Community College in Iowa offers highway construction training for women and minorities looking to enter the highway construction industry.
The four-week training program meets for three hours, four days a week and teaches participants basic math, safety, blueprint reading and how to operate hand and power tools.
Women and minorities also have the opportunity to take a 10-day heavy equipment operator training course at Hawkeye Community College. This free, interactive, hands-on training teaches the basic skills and knowledge to safely operate heavy equipment. Program participants train using both driving simulators and actual equipment including wheel loaders, dump trucks, forklifts, skid steers and more.
Kansas
Excel in Career Technical Education Initiative
In 2012, Kansas passed Senate Bill 155, which is also known now as the Excel in Career Technical Education Initiative. Under the legislation, high school students who take qualified technical courses in eligible high-need occupations offered at Kansas technical and community colleges can get their tuition paid for. The Act passed unanimously and took effect July 1, 2012.
High-need occupations eligible for the program include construction laborers, diesel engine specialists, carpenters, sheet metal workers, cement masons, concrete finishers and more.
An incentive program for high schools gives school districts $1,000 for each student who graduates from that district with an industry-recognized credential in one of the high-need occupations.
Since the program started, the number of high school students enrolled in technical courses increased by nearly 5,000 from 3,870 in the 2011-2012 school year to 8,528 in the 2013-2014 school year. That is a 120% increase in headcount.
The number of students earning industry-recognized credentials increased a whopping 159% from 548 in the 2011-2012 school year to 1,419 students in the 2013-2014 school year.
Crossland Construction 20/20 Mentorship Program
Columbus, Kan., contractor Crossland Construction is just one example of a construction company taking workforce development into its own hands.
The contractor's 20/20 mentorship program offers high school graduates the opportunity to receive additional NCCER credentials, become registered apprentices, receive a work-readiness certificate, become OSHA-10 certified and have an assigned journey-level carpenter mentor them for three years, according to an article from NCCER's Cornerstone magazine.
Michigan
Summer Work Program
Administered by the Associated General Contractors of Michigan and designed exclusively for Michigan construction contractors, the summer work program is a cooperative program that connects contractors looking to provide construction work experience with undergraduate students from Michigan colleges and universities looking for those jobs.
Contractors can select from a pool of sophomore and junior students from several Michigan universities.
Contractors participating in the summer program must agree to employ the student for a minimum of 12 weeks at a salary of $400 per week. The employer is also responsible for funding $750 toward tuition in fellowship for the employee.
The most obvious benefit is contractors gain exposure to a prospective employee. In addition, contractors might also be able to receive a federal tax savings through a legitimate business expense realized on the fellowship portion. A tax credit of up to 50% for fellowship contribution from taxes due may also be an option.
Michigan Construction Trades Class
High school students at Berrien Springs, Benton Harbor and New Buffalo high schools have the opportunity to take a class on the construction trades.
The Berrien Springs class, which is open to juniors and seniors, meets every school morning throughout the school year. Students in the class learn a variety of construction-related skills including electrical, plumbing, drywall, framing, roofing and how to use heavy equipment. They also learn how to incorporate green technology into construction.
It's not all classroom work; these classes include a hands-on element as well. The Berrien class often builds commercial buildings, such as storage buildings, for local business or school needs.
Students who complete this program can earn credits toward a two-year degree at Lake Michigan College and take the state builders license test once they turn 18.
Access for All – Detroit
Access for All is a free nine week apprenticeship readiness training program designed to prepare Detroit residents for application into one of several union trade apprenticeships including laborers, operating engineers, iron workers, cement masons, carpenters and electricians. Program graduates receive a Certificate of Completion and industry recognized certifications including MIOSHA 30 and First Aid/CPR. The program is privately funded by the Detroit Regional Workforce Fund.
The training consists of over 200 program hours as well as one week of hands-on training and several field trips highlighting what specific trades require.
The program is open to unemployed or underemployed Detroit residents who are 18 years or older and hold a high school diploma or GED.
In addition to training participants, program staff work with each graduate on job seeking skills and resume development and help coordinate with local workforce and union partners for referrals to union apprenticeship training programs or union construction jobs.
Construction Workforce Development Alliance of West Michigan
The Associated Builders and Contractors Western Michigan Chapter, American Subcontractors Association of Michigan and Home Builders Association of Greater Grand Rapids created the Construction Workforce Development Alliance of West Michigan (CWDA).
CWDA developed a Construction Core Certification (CCC) program that teaches basic construction skills in just 15 weeks. Participants in the CCC program can choose from either a commercial or residential construction learning track.
The 100-hour program covers 12 learning modules including:
Construction math
Basic construction drawing
Rigging
Rough terrain fork lift
Lead awareness
First aid/CPR
10-hour OSHA certification
Hand/power tools
Material handling
Competent person scaffolding
Asbestos awareness
Communications and teamwork
Participants may also choose to add additional modules such as concrete, carpentry and iron work.
CWDA claims that every student participating in the CCC program will also be guaranteed at least two interviews with local construction companies upon completion of the program.
Minnesota
Summit Academy OIC
Summit Academy in Minnesota is a vocational training and job placement program. Of the four training program options offered, two are construction related.
Summit Academy's Pre-Apprentice Construction Program, also known as 100 Hard Hats, uses hands-on and classroom training to prepare students for careers in the construction field.
The program consists of two 10-week phases broken into general industry training and hands-on training. The program helps prepare students with job readiness skills for both residential and commercial construction.
Within the pre-apprenticeship program, additional specializations are offered for heavy equipment operator, electrician and residential rehabilitation technician.
Tuition for the program is generally covered by grants so students do not have to worry about loans or out-of-pocket expenses.
Summit Academy also has the Women Wear Hard Hats Too (WWHH2) program, which is Minnesota's largest female-focused training program. With the goal of increasing the number of women working in the construction industry, the program offers weekly training and group discussions on female-focused topics while also preparing students for success both in the classroom and on the job.
Participants in the WWHH2 program benefit from a tradeswomen mentorship program, jobsite field trips and job placement support.  
Missouri
Mentoring A Girl In Construction (MAGIC) Camp
Run by the National Association of Women in Construction's (NAWIC) Kansas City, Mo., chapter, MAGIC Summer Camp offers high school girls the chance to learn about employment for women in the construction industry.
Campers at the weeklong camp also get hands-on training in basic carpentry, electrical, masonry, concrete and welding skills.
In addition to learning hands-on skills, guest speakers also teach campers about the business side of construction and the different career options within that side of the industry.
Sponsorships for MAGIC Camp are available.
Construction Apprenticeship Tech Prep Consortium
Missouri's Construction Apprenticeship Tech Prep Consortium (CATPC) is an educational program that provides a bridge to connect high school students and technical schools with apprenticeship opportunities.
Students who participate in the CATPC program get on-site training experience with apprenticeship instructors. Students also get the opportunity to apply for apprenticeship opportunities with advanced placement.
In addition, those who complete the apprenticeship program also receive 30 free credit hours toward an Associate Degree in industrial technologies through Metropolitan Community Colleges.
Regional Technical Center – Nevada, Mo.
Located in Nevada, Mo., the Nevada Regional Technical Center's (NRTC) Construction Technology Program is designed for high school juniors and seniors and adult students.
The goal of the program is to "provide students with a working knowledge of technology, necessary critical thinking and academic skills for pursuing apprenticeships or entry-level careers in residential and commercial construction."
The two-year program is a hands-on learning opportunity. Students learn various construction skills while building a complete residential home.
The NRTC Construction Technology Program is accredited by the Associated General Contractors of America — Kansas City Chapter and is sponsored by the Construction Apprenticeship Tech Prep Consortium.
MOKAN Pre-Apprenticeship Program
This eight-week course offered through MOKAN Construction Contractors Assistance Center is aimed at increasing diversity in the construction workforce and designed to prepare nontraditional workers to enter the construction industry.
Participants in the pre-apprenticeship program will receive job training as well as remedial education, financial guidance and career preparation.
Nebraska
BuildOurNebraska.com
This website is designed to promote interest in Nebraska's construction industry and help those looking for Nebraska construction jobs.
BuildOurNebraska.com has resources including job descriptions and job openings; industry events; educational programs including secondary education academic programs, apprenticeship programs and scholarship opportunities; and resources for both teachers and parents.
Pink Hardhat Days
Nebraska's Pink Hardhat Days provides female students entering high school through freshman year of college the opportunity to interact with female industry professionals through engineering- and design-focused hands-on activities.
Participants also have the chance to tour active construction sites throughout the Omaha area and see how engineering concepts are applied during the building phase.
Contractors or businesses can become involved through sponsorships, assisting with hands-on activities, professional speakers presenting on construction projects or arranging for a construction site visit.
Omaha Career Center
The Career Center offers current high school students the opportunity to learn about 14 career fields and provides a glimpse into those careers. Courses are taken at the Career Center as an extension of the traditional high school experience.
The Construction Academy teaches students about construction through integration of core academics such as math and English in direct relationship to construction. Students enrolled in the Construction Academy spend their mornings at the Career Center being exposed to a variety of trades.
In addition to learning essential skills for working in the construction industry, students also learn how to present themselves to an employer as well as complete 10 hours of OSHA safety training.
Benson High School Career Academy
In March 2015, the Omaha, Neb., school board approved a plan to convert Omaha's Benson High School into a career academy. This will be Omaha Public Schools' only career-oriented high school, according to an article from The Washington Times.
Students attending the Benson Career Academy will have the opportunity to enter one of three career academies at the start of their sophomore year: construction and design; business and entrepreneurship; or health professions.
According to the article, the Fall 2015 freshman class is projected to be Benson's largest in five years.
ABC Nebraska Construction Academies
This pre-apprenticeship training program provides students with the opportunity to get an in-depth look at construction trades and learn the necessary skills for a career in the construction industry through a structured, practical lab environment.
Open to anyone 18 years and older with a GED or high school diploma, Construction Academies are available in Lincoln, Neb., and Omaha, Neb.
The Construction Academy teaches craft skills covering safety, construction math, hand and power tools, construction drawings/blueprints, basic rigging and material handling.
The Academy also teaches personal skills such as listening and speaking, reading and written communication, critical thinking and problem solving, conflict resolution, crew leader and team member relationship skills and more.
Students enrolled in the Construction Academy attend class two nights a week for one semester. After completion, students can apply to apprenticeship programs in their desired trade.
North Dakota & South Dakota
Dakota Construction Careers Coalition
The Dakota Construction Careers Coalition is a coalition of six labor groups tasked with finding more skilled construction workers for both North and South Dakota's construction industries.
The coalition was formed to recruit and train new workers, and it's reaching out to both high school graduates and experienced workers looking to build a new career. The coalition formed in 2014 and started its campaign to recruit the next generation of construction workers through both marketing and open house education.
The open houses provided visitors with the opportunity to learn about careers and training opportunities directly from representatives of the building trades, which included bricklayers, cement masons, heavy equipment operators, iron workers, plasterers, painters and laborers.
Build Dakota Scholarship Fund
Build Dakota Scholarships are awarded to skilled scholars entering one of eight high-need workforce programs at one of the four participating South Dakota technical institutes. Eligible programs include building trades/construction, welding and more.
These full-ride scholarships are available to both in- and out-of-state students and help cover tuition, fees, books and other required program expenses.
Scholarship recipients must "commit to living and working in the state, in their field of study for three years following graduation."
The program estimates that 300 scholarships will be awarded annually through the first five years with approximately 50 full-ride scholarships awarded yearly after the first five years.
Career and Technical Education Academy – Sioux Falls, S.D.
The Career and Technical Education Academy serves high school students from Sioux Falls, S.D., and nine surrounding school districts. The CTE Academy offers 15 different specialized and technical programs — including architecture and construction.
The CTE Academy provides its students with project-based, career-oriented learning that helps prepare them for future careers.
Students who enroll in the CTE Academy continue to attend their home high school for core academic classes and then attend the CTE Academy for one of three scheduled blocks each school day for specialized training.
In 2014, fall semester enrollment at the CTE Academy was over 900 students.
Ohio
Kokosing Construction Company Co-op/Internship Program
Kokosing Construction Company is another Midwest contractor incorporating workforce development into its business.
Kokosing's Co-op/Internship Program gives college students the opportunity to gain practical, hands-on construction experience. Students accepted into the contractor's program get involved from their first day on the job through specific project responsibilities and tasks assigned to them.
Supervisors and project staff structure the program participants' work efforts allowing participants to learn construction management methods while contributing directly to the completion of a project.
Kokosing provides co-op and intern opportunities for each of its construction divisions and provides both field experience and the chance to assist in areas such as project management and engineering, project supervision or estimation.
Cleveland Metropolitan School District Pre-apprenticeship Program
A recent partnership between the Cleveland Building & Construction Trades Council and Cleveland Public Schools has created a new state-approved pre-apprenticeship program at Max Hayes High School in Ohio.
Eight local unions are participating to help provide the curriculum and members to instruct students participating in the program. 
Wisconsin
BuildWisconsin.com
BuildWisconsin.com is an effort to help educate the public about Wisconsin's construction industry. Developed by the Associated General Contractors of Wisconsin as a means to educate high school students on the benefits of a career in the construction industry, the website has been used as a template for other similar websites.
BuildWisconsin.com features resources for students including information about construction careers, educational programs (four-year, two-year and apprenticeship programs in Wisconsin), scholarships, events and more. There are also sections with resources for teachers and parents.
There are links to job resources such as where students can find paid work with a contractor while still in school. The website also highlights a few local high school job shadow programs.
For a little extra fun, the website also includes a link to an online game where users test their knowledge on what it takes to manage a construction project.
Wisconsin Regional Trades Partnership/BIG STEP-Milwaukee
Wisconsin Regional Trades Partnership (WRTP) specializes in developing hands-on pre-employment training and certificate programs that assist economically disadvantaged minorities, women and youth in the Milwaukee, Wis., area develop the skills needed to participate in the workforce, specifically skilled trades.
WRTP partnered with BIG STEP, which focuses on individualized tutoring in academic skills for apprenticeship exams. WRTP/BIG STEP is helping train the next skilled workforce through pre-apprenticeship tutoring, pre-employment training certificate programs, other certification opportunities and direct placements.
The road building certificate program is a contract with the Wisconsin Department of Transportation to help provide a pool of trained road construction workers for WisDOT projects.
WRTP/BIG STEP also provides the City of Milwaukee Residential Preference Program (RPP) certification and the Communities in Need (COIN) certification. RPP promotes the use of city residents as part of a contractor's workforce on city construction projects. COIN helps local workers with employment opportunities on Milwaukee Public Schools building projects.
Through Urban Skilled Trades Connect, a collaboration with Milwaukee Public Schools, WRTP/BIG STEP also works to promote interest in and prepare local public school students for careers in construction and other skilled trades. The program includes tutoring, career fairs, outreach, job shadowing and more. The program also assists graduating seniors in earning apprenticeships after high school.
In 2005, the partnership between WRTP and BIG STEP helped launch the Center of Excellence for Skilled Trades & Industry, which provides a central place for assessment, preparation and placement for job-ready candidates in trades such as construction, manufacturing and other sectors. The Center of Excellence provides career pathways for job seekers as well as services for contractors or unions looking to hire.
Nationwide Initiatives Work to Recruit Construction Laborers
Education is Key to Recruit, Develop the New Construction Workforce
Hands-on Training Opportunities Create Interest in Construction Jobs
Apprenticeships are Still a Viable Source of Construction Workforce Development
What is Your State Doing to Develop the Construction Workforce?