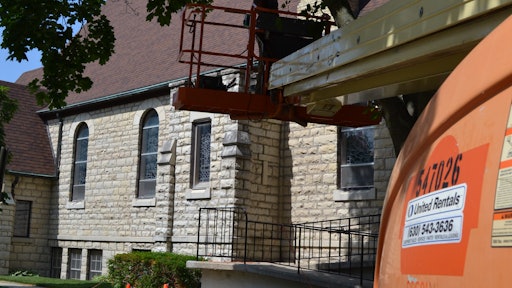 As a result of my involvement in the area of aerial lifts (I work with a rental company that has 800 of them), I have heavy interest in the financial data and analytics related to this type of equipment, which I believe have relevance to any contractors that own or rent scissors and boom lifts.
When you regularly overhear conversations rental coordinators have with contractors, you come to understand how to make the process work better for both parties. So, here's a short review about how to make your rental process more efficient:
Properly complete the credit application and have insurance information available. The rental house will not give you a $100,000 piece of equipment unless it knows who you are and that you are good for the rental. This includes having insurance to cover the rental unit. The rental house will need a certificate from your insurance company. If you're not prepared, expect a delay. You can purchase the insurance from the rental company, but it is not cheap.
If you are a first-time customer without approved credit, expect to provide a credit card to cover your first rental, since it takes time to process a credit application.
Know what you need and how long you expect to keep it. It sure helps if the right equipment shows up on the jobsite — and it avoids a wasted day switching out units.
Have the proper personnel take delivery of the equipment. They should be authorized to check it over and sign off on the delivery and the date. And I would make sure you know when the rental "starts" to avoid confusion later on.
Understand how the rental contract works. Most are daily, weekly and monthly rentals. A monthly rental is normally 28 days. So if you think it is good for a full month, you will be billed for any days you keep the machine past 28 days. Know when the rental contract expires and mark your calendar accordingly.
Know your call-off date and get a call-off number for your records. Don't guess when the contract expires. Call it off when you're done and record that number for accounting purposes.
Get the machine ready and in place for easy pickup. Don't make the driver play "hide and seek" to find the rental unit. Have it ready to go and inspect and fuel it before pickup. If you damaged it, at pickup is the time to disclose this to avoid an "apples to oranges" discussion about the damage. The driver will have a picture of the unit when it was delivered and will most likely take one on pickup.
Don't call your rental provider at 2 p.m. and expect a 7 a.m. delivery the next day. Plan on having the unit delivered the day before you really need it. The rental coordinators will work with you to get it delivered late in the day, which saves them trying to schedule a 7 a.m. slot. Rental charges should start the next day.
Follow this program and you will have an efficient rental experience most of the time. Of course, it doesn't always work out that way, since during the height of the season, being inside a rental company office borders on insane. However, the coordinators do their best to make it work for both parties.
Review the Analytics to Better Manage Costs
If you own aerial access equipment, you may be interested in some financial data associated with this equipment that you can use to benchmark your cost of ownership and operation (without operator). Rental companies do a good job of comparing notes, and there is data available from publicly held rental companies, as well.
Rouse Analytics provides equipment appraisals, equipment sales and industry analytics primarily to rental companies and equipment dealers. It provides a monthly Rouse Rental Report that covers:
Equipment values for various types of construction equipment
Auction results from the sale of this type of equipment
Who is buying the used units
Monthly sales as a percentage of original cost
Average age of various equipment types in use in rental fleets
Rental rate trends for various machine types
In terms of aerial equipment, the Report covers telescopic booms, high-reach forklifts, articulating booms and scissor lifts.
There is a lot of current data in a Rouse Rental Report to help dealers, rental companies and contractors make decisions about buying, selling and renting equipment. If you are a contractor that has a significant equipment fleet, I can assure you this report will help you manage your fleet more productively and profitably.
One stat I like to review is the time utilization, because if the unit is not out on rent or in the field being used, it is not making you any money. The rental folks understand that and know if they fall below the industry averages for time utilization, the unit in question will not cover its cost to own, with a need to move it out.
I find contractors in a similar position regarding time utilization. You have to measure "billable equipment usage" to the job and not assume a unit is highly utilized just because it is sitting on a jobsite. If you are not charging the project for every day a piece of equipment is on site, then you will find yourself in the same position as the rental company with low-utilization units that are not paying for themselves. In other words, you may have lower costs using rental because you know what your costs are and can charge them to the project.
Make Use of Construction Equipment Trends to Maximize Profit

One last comment regarding aerial equipment, and that is: Safety training is a must for all employees using this equipment. Please make sure this is a high priority item.
Garry Bartecki is the managing member of GB Financial Services LLP and a consultant to the Associated Equipment Distributors. He can be reached at (708) 347-9109 or gbartecki@comcast.net.