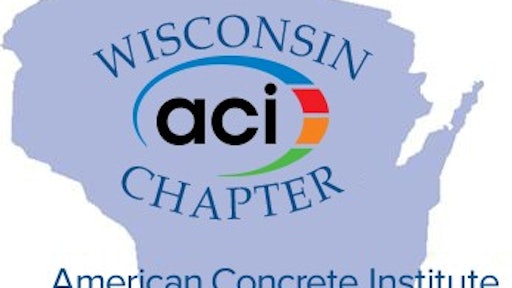 This spring, the ACI Concrete Convention and Exposition will be held at the Wisconsin Center in Milwaukee, Wisconsin, April 17-21, 2016. The convention covers the full range of sessions and events related to concrete construction, engineering and design.
When the ACI Wisconsin Chapter was formally recognized in 1975 its mission was "To further engineering education and scientific investigation by organizing the efforts of its members for a non-profit, public service in gathering, correlating and disseminating information for the improvement of the design, construction, manufacture, use and maintenance of concrete products and structures." Only four years after its creation, the Chapter successfully hosted the 1979 National Convention, the premier industry event for disseminating information. Then, as now, the mission of the Chapter has been enhanced by a membership that represents a broad cross section of the construction industry. After thirty-seven years, the ACI Convention has returned to Milwaukee and the ACI Wisconsin Chapter convention co-chairs, Jeff Anderson (Wisconsin DOT) and Laura Powers (Wiss, Janney, Elstner Associates) say the Chapter is eagerly anticipating hosting another successful event.
During the four-day run, attendees will have opportunities to attend numerous seminars on a wide range of topics. Attendees can sit in on various ACI committee meetings where specifications are discussed and developed in order to keep up with the ever-changing world of concrete technology. Committee meetings are open to all registered convention attendees.
Technical and educational sessions provide attendees with the latest research, case studies, best practices, and the opportunity to earn Professional Development Hours (PDHs).
Additionally, the ACI Convention offers numerous networking events where you can expect to meet with many of the industry's top engineers, architects, contractors, educators, manufacturers, and material representatives from around the world.
Special Events
Each year, the ACI holds several special events which have gained in popularity over the years.
The Student FRC Bowling Ball Competition will challenge students to design and construct an FRC bowling ball that will achieve optimal performance under specified failure criteria. Students will develop a fabrication process that produces a radial uniform density while maximizing volume. Online registration for the competition is available at www.concrete.org/students/studentcompetitions.aspx.
The Student Day Lunch will feature Lawrence Novak, Director of Structural Engineering for the Portland Cement Association who will present the "Top Ten Useful Lessons for Structural Engineers." Larry was named the "ACI Educational Speaker of the Year" in 2011.
The International Lunch will feature guest speaker Zongjin Li who will give a presentation titled, "Sustainable Developments of Concrete Technology in China." Li has done extensive research in the area of cement-based materials and nondestructive evaluations.
The very popular Contractors' Day Lunch will feature Dr. Mark Federle, Professor and McShane Chair in Construction Engineering and Management and Associate Dean for Academic Affairs at Marquette University. Dr. Federle will give a special presentation titled, "Developing a Successful Strategy to Mitigate and Manage Risk on a Project." Local contractors can receive a special rate to attend Contractors Day. If interested, they should contact the ACI Wisconsin Chapter (aci.wisconsin@gmail.com).
Among the other events to attend are the Opening Reception, Women in ACI Reception, Hot Topic Sessions, and the Concrete Mixer, all of these events will allow you to meet and network with attendees from around the world.
"Each spring and fall, ACI members and concrete professionals convene to develop consensus-based concrete knowledge and educate each other on research, innovation, and new products," says Ron G. Burg, Executive Vice President, American Concrete Institute. "I am consistently amazed at the dedication of over 1,500 attendees and exhibitors who give their time and knowledge to ensure that our global community has access to the industry's most comprehensive and advanced technical knowledge. From first-time attendees to long-time members, I expect our collective week in Milwaukee to be informative, educational, and enjoyable for all."
The Concrete Convention and Exposition focuses on the promotion of concrete ideas through committee meetings related to ACI specifications, seminars and training of certified personnel that are used universally on construction projects daily, all while promoting concrete and its numerous application.
For more information and to register visit www.concrete.org.