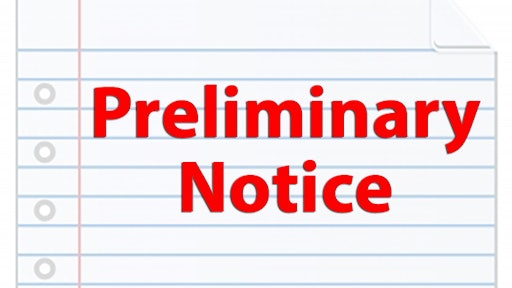 Preliminary notices are part of the construction payment process. Construction project participants send preliminary notices — sometimes called pre lien notices or notices to owner — in the early stages of a project to notify other parties of their involvement. Most states actually require subcontractors and suppliers (and sometimes other parties) to send preliminary notices to key project stakeholders in order to secure lien rights. 
What does a preliminary notice include?
The information included in a preliminary notice may vary by state, but typically it will contain information about the notifying party and the party that hired them as well as the property owner's information and the general contractor's information. Often, the amount the notifying party expects to be paid is also included. 
Some states' lien statutes stipulate that preliminary notices should contain specific language. Make sure to check the state's lien statute or download a correctly formulated preliminary notice template to ensure that the notice is valid.
Preliminary notice requirements
Most states require construction participants to send preliminary notices to the general contractor and/or property owner in order to secure the right to file a mechanics lien on residential and commercial projects. Securing lien rights is important because mechanics liens are the best tool available to construction participants to secure payment.
How Mechanics Liens Help Secure Payment on Construction Projects
In a credit-heavy industry where late payments are all too common, taking steps to minimize financial risk is especially important. Without lien rights, project participants are left with little recourse in the event of nonpayment other than filing a lawsuit, which can be expensive and time-consuming. Protecting the right to file a mechanics lien helps ensure that construction participants will secure payment on every project.
Preliminary notice requirements generally exist for the benefit of top-of-chain parties, such as owners and general contractors. Often, parties at the top of the hiring chain are unaware of the involvement of subcontractors and suppliers. This is especially prevalent on large-scale construction projects with multiple tiers of hiring.
Preliminary notices inform these top-of-chain parties who are working on a project to help top-tier parties avoid unexpected liens and to facilitate a smooth flow of payment to the parties sending notice.  
To check if sending preliminary notice is required to secure lien rights in a given state, visit zlien.com/resources and select the state from the menu. 
Benefits of sending preliminary notice (even when it's not required)
While preliminary notice requirements generally exist to benefit top-of-chain parties, they are also extremely beneficial for the party sending notice. So beneficial, in fact, that it is a good idea to send preliminary notice even when it's not required. Preliminary notices promote transparency and visibility, which empower a smoother and faster payment process. 
Build relationships. Some construction participants fear that sending preliminary notice will damage relationships with clients. This is rarely the case. Zlien's research shows that more than 83% of notice recipients find the documents helpful, or just a part of everyday business. Communication is beneficial to all relationships, and preliminary notices communicate information to improve transparency and visibility on construction projects.
Speed up payment process. Sending preliminary notice alerts the client of a pending balance, and thus prioritizes the invoice. The parties making payment are much more likely to write and send a check if they know who they are paying, how much they owe and when payment is due. Sending preliminary notice keeps an invoice top-of-mind and helps prevent it from slipping through the cracks and becoming delayed. 
Avoid lien filings. While a mechanics lien is an excellent tool available to late-paid construction participants, getting paid on time without needing to file a lien is preferable. Filing a lien is much more time consuming and expensive than sending a preliminary notice, and a small error or missed deadline can entirely invalidate a claim.
According to zlien's data, mechanics liens only need to be filed in fewer than 2% of cases where preliminary notice and notice of intent to lien (a specific type of preliminary notice required in 9 states) are sent properly.
How to send preliminary notice
Specific preliminary notice rules, requirements and deadlines vary by state. Typically, preliminary notices should be sent via certified mail. Keep in mind that preliminary notices are sent preemptively, long before a payment problem arises. Generally preliminary notices are due shortly after a project begins, so being proactive is essential.
There are several ways to manage preliminary notices:
Do it yourself. Sending preliminary notice manually is always an option, though it may become a challenge for companies with a large volume of projects. Free preliminary notice forms are available online to be printed and mailed individually.
Use a software. Most lien management platforms send preliminary notices in addition to other features. Implementing a software to send preliminary notices is a good option for construction companies with high project volumes or for companies that work in projects in multiple states because rules vary by state, and keeping track of multiple sets of requirements is challenging.
Nate Budde is the Chief Legal Officer and General Counsel at zlien, a construction software platform that makes managing lien rights and securing payment easy. Nate manages and oversees the Lien Genome and zlien's products, processes and resources. For information on mechanics lien law and construction industry credit practices, check out zlien.com.