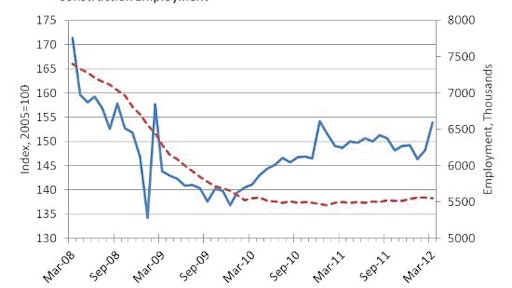 Wright Express Corporation, a leading global provider of value-based business payment processing and information management solutions, in collaboration with IHS, a leading global source of information and analytics, released results of its Wright Express Construction Fuel Consumption Index March 2012 (FCI), which indicated an increase of 3.5 percent in March versus its level the previous year and a 3.8 percent increase versus the previous month.
The Wright Express Construction FCI measures national fuel consumption statistics for the construction industry, which provides an accurate and up-to-date indication of construction activity in the United States. The construction segment comprises approximately 20 percent of the Wright Express portfolio of customers.
"The results of the March 2012 Fuel Consumption Index indicates increased fueling activity in the construction sector, which typically accompanies an improvement in U.S. construction activity," said Michael Dubyak, chairman and chief executive officer of Wright Express. "It is encouraging to see a positive uptick for March following the negative year-over-year metrics witnessed for the previous three months."
Wright Express worked with IHS to capture and analyze transaction data from its closed loop network of more than 180,000 fuel and vehicle maintenance locations, including over 90 percent of the domestic retail fuel locations and 45,000 vehicle maintenance locations. With this data, the Wright Express Construction FCI can be used to identify emerging trends within the construction industry and the national economy.
The indicators were tested at monthly, quarterly and annual frequencies, with the greatest insights produced using the year-over-year percent change of the monthly data.
According to the Wright Express Construction FCI, the strong growth in March marks the largest month-over-month gain in fuel consumption for the seasonally-adjusted index since the creation of the FCI. Other recently released construction data has been less positive as the unusually warm winter weather boost faded and the industry lost 7,000 jobs in March and 6,000 in February. Additionally, real spending on infrastructure is likely to remain on a downward trend through next year, given the budgetary problems confronting state and local government.
According to the IHS analysis, after three years of depressed construction, the inventory of new housing is beginning to tighten. New home sales declined by 1.6 percent in February, but inventory continues to shrink, which is good news since builders will have to replenish stocks by ramping up starts once demand rebounds. Housing starts were down in February, but were still at their third-highest level since October 2008. Meanwhile, housing permits rose 5.1 percent in February to a 717,000 annual rate, which is the highest level since October 2008. The pickup in permits in February is a good sign for future home building activity. This year should be a better year for housing than 2011. Pent-up demand for housing is building as young adults stay at home, and at some point will spark a revival in housing activity.