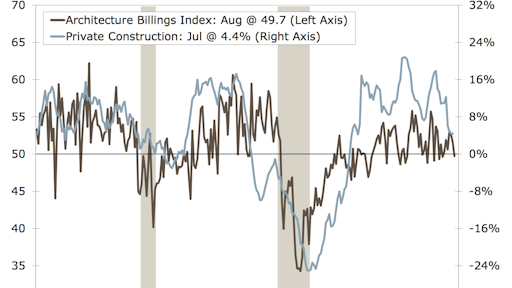 Architecture billings for construction projects faltered in August, reflected in the American Institute of Architects' Architecture Billings Index falling to 49.7 from 51.5 in July. Despite the weak headline reading, the overall trend remains positive and continues to point to modest gains in private construction activity.
An ABI below 50 represents contraction in billings, which AIA expects will show up in actual construction spending in nine to twelve months. But the ABI has been above 50, in expansion territory, in six of the past eight months, and AIA's outlook remains positive.
Wells Fargo agrees, but won't candy-coat the likelihood this ABI portends some softening in future construction spending.
"Despite the weak headline reading, the overall trend remains positive and continues to point to modest gains in private construction activity," the Wells Fargo Economics Group said in its analysis of the month's ABI. "Based on a three-month moving average, billings cooled during the month but remained above the key threshold at 51.3 in August (down) from 52.4 in July.
"Using the same trend," Wells Fargo adds, "The August reading is 1.9 points below the year-ago score, however, suggesting some moderation in private construction outlays is in the offing."
"This is only the second month this year where demand for architectural services has declined and it is only by a fraction of a point," said American Institute of Architects (AIA) Chief Economist, Kermit Baker, Hon. AIA, PhD. "Given the solid numbers for new design contracts and project inquiries, it doesn't appear that this is the beginning of a broader downturn in the design and construction industry."
The related design contracts index increased to 52.7 from 51.8 the previous month. And the project inquiries index also increased to 61.8 in August from 57.5 in July.
On a regional basis, billings were mixed:
West: 49.0, down from 49.2 in July
Northeast: 44.9, down from 49.3 in July
South: 56.9, up from 55.2 in July
Midwest 52.8, up from 50.1 in July
By segment, the multifamily sector fell 4.3 points to 50.9 in August. While still in expansion territory, Wells Fargo points out that this drop is the largest one-month decline since mid-2015, suggesting some moderation in private multifamily outlays in the coming year. Weakness in the multifamily sector is consistent with recent readings in starts and permits. Year-over-year growth in multifamily starts is up only 4.7% in August down from 14.7% in July.
Permits have also been soft, registering the seventh straight month of year-over-year negative readings. Multifamily permits were down almost 12% in August from a year earlier. Much of the slowdown can be traced back to a cooling in apartment demand, according to Wells Fargo's analysis. After rising from a record low in 2014, the apartment vacancy rate remained unchanged in in the second quarter of 2016 at 4.5%. Moreover, the level of net completions is also declining but continues to outpace net absorption. 
Nonresidential components of the ABI continued to signal modest growth, with commercial/industrial increasing to 50.8, and institutional remaining unchanged at 50.7 during the month. Although AIA combines commercial and industrial figures, Wells Fargo suggests much of slowdown is due to manufacturing, while commercial construction spending remains strong.
"Indeed, private manufacturing outlays fell 5.1% on a year-ago basis in July, on the back of weak spending on transportation equipment and chemical projects," Wells Fargo adds in its analysis of trends behind the August ABI. "On the other hand, private commercial construction spending, which includes, lodging, office, retail and warehouse, continues to drive overall private construction spending, posting solid double-digit readings relative to a year earlier."
Wells Fargo Securities expects private nonresidential construction spending to rise between 3% and 6% in 2016 and about 4% in 2017.