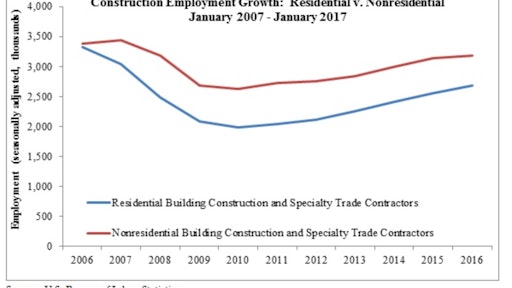 National construction employment started 2017 on a high note, adding 36,000 net new jobs on a seasonally adjusted basis in January, according to Associated Builders and Contractors (ABC) analysis of U.S. Bureau of Labor Statistics data. The 0.5% increase represents the best month for construction employment growth since March of 2016. 

The nonresidential construction sector added 14,900 net new jobs for the month, while its residential counterpart added 20,300 net new jobs (note that these don't sum to the total due to rounding). The construction industry added 170,000 net new jobs on a yearly basis, an increase of 2.6%. 

"Today's employment report indicated growing strength in construction along a variety of dimensions," said ABC chief economist Anirban Basu. "First of all, there was job growth in both residential and nonresidential categories. Over the past year, nonresidential construction has accounted for roughly a quarter of total construction job creation. However, in January, nonresidential activities accounted for more than 40% of net new jobs, indicating relatively faster performance improvement in that part of the nation's construction sector. Secondly, the industry's unemployment rate surged in January to 9.4%. While one would be tempted to suggest that this was due to a loss of seasonal construction employment, that cannot be a primary explanation since the total number of construction jobs expanded meaningfully in January. The better explanation is that more people have begun to look for work in the construction industry, perhaps in part because of indications from the new administration in Washington D.C. that an infrastructure-led stimulus package is now in the works. 

"The rapid pace of hiring is consistent with ABC's backlog survey, which indicates that the typical nonresidential construction firm can look forward to many more months of activity," said Basu. "With continued aggressive investment in commercial properties and still-low interest rates, backlog will continue to expand among many contractors. Indeed, the architecture billing index, a key industry leading indicator, surged late last year in part because of growing confidence in the U.S. economy.

"For contractors, this is likely to mean even more difficulty in finding suitable workers to complete projects," said Basu. "While the industry unemployment rate has been rising, there is no assurance that new entrants into the U.S. labor force possess the skills necessary to work on today's construction projects. This also likely implicates faster wage growth within the nation's construction workforce."

The construction unemployment rate increased by 2 percentage points in January and now stands at 9.4%. That is an increase of 4.9 points since July 2016. The nationwide unemployment rate, which inched up to 4.8% in January, has decreased by a tenth of a percentage point over that same time period.
Companies in this article