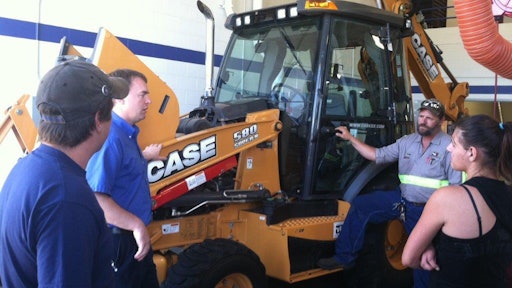 Washburn Institute of Technology (Washburn Tech) of Topeka, KS, has launched a full-time, one-year construction equipment/diesel technology training program, sponsored by CASE Construction Equipment and CASE equipment dealer The Victor L. Phillips Company (VLP). The inaugural session of the program began in August at Washburn Tech's state-of-the-art training lab on its main campus in Topeka. The goal of the program is to provide qualified diesel service technicians to fill the demand currently experienced by equipment dealers and other service providers regionally and nationwide.
Program graduates earn a technical certificate or an Associate of Applied Science Degree (AAS) in Diesel Technology. A total of 44 students are enrolled in the 2013-2014 school year, which began August 12, 2013. The program complements Washburn Tech's existing Commercial and Heavy Construction pathway for heavy equipment operation.
"We're thankful for the opportunity to collaborate with industry partners like CASE Construction Equipment and VLP who recognize the importance of this training and the demand for these skills in the market," says Clark Coco, dean, Washburn Tech. "Together, we're providing the kind of quality education and real-world experience that will transform students into valued employees with the necessary skills to drive the workforce and the economy."
Jim Hasler, vice president, CASE Construction Equipment – North America, says the company's sponsorship of the heavy diesel construction technology program exemplifies the company's commitment to the growth of the construction equipment industry and servicing the needs of customers.
"Demand is high for skilled technicians in this industry, and service plays a vital role in customer satisfaction for our dealers," he says. "This program will help VLP and other dealers cultivate new talent capable of working on diesel machines of all brands and styles, equip workers with in-demand skills that can lead to an excellent living, and serve as a template for future partnerships between manufacturers, dealers and educational institutions."
The importance of skilled service technicians in the construction industry cannot be understated, echoes VLP Product Support Manager Bill Esterly. "We're delighted to support education and help meet the demand for skilled technicians. The goal of our business is customer satisfaction. This effort demonstrates that we're not in this for ourselves. We're here to help our customers succeed by populating the industry with a high level of talent that will be there when needed."
Companies in this article