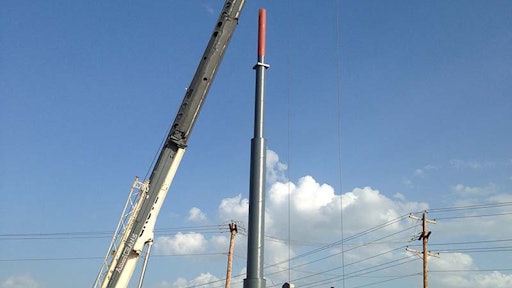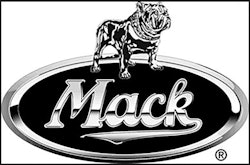 Mack Trucks announced further investment and growth in its extensive customer support network with a new dealership in Cotulla, Texas, scheduled to open late August. Valley Truck Centers' new 40,000 square-foot facility also features the world's largest Mack Trucks pylon, measuring in at 17 feet 2 inches tall and 29 feet 6 inches wide. 
The sign was recently installed in preparation for the grand opening. The new Valley Truck Centers facility, located at 206 W FM 468, off Exit 67 on Interstate-35, midway between San Antonio and Laredo, features 22 service bays and offers both new and used vehicles, parts delivery and road service.
"Mack is committed to growing our extensive dealer network, and the Valley Truck Centers facility is among the biggest, boldest examples," said Stephen Roy, president, Mack Trucks North American Sales & Marketing. "The new facility – boasting the world's largest Mack Trucks sign – will offer our customers even more support for their operations."
Since 2010, Mack dealers have invested $380 million, resulting in a:
- 35 percent increase in service bay capacity;
- 162 percent increase in Mack Master Technicians;
- 69 percent increase in spare parts availability;
- 62 percent increase in hours available for service; and
- 82 percent increase in parts department employees.
Mack's extensive service and support network of more than 460 Mack dealer locations and 15,000 additional service providers in North America is vital to the success of Mack's aftermarket support.
"Our continued growth is only possible through the cooperation of Mack, the loyalty of our customers and partners and the professional dedication of our employees," said Tammy Cuellar, president and CEO of Valley Truck Centers.
The ongoing investments to expand service and support capabilities further the effectiveness of Mack's GuardDog Connect telematics-based solution, which quickly diagnoses potential issues, proactively schedules repairs and confirms that required parts are in stock and ready to install, all while the truck is still on the job.