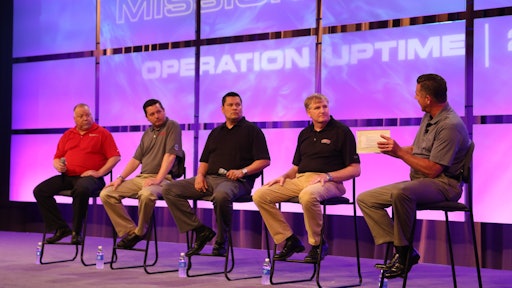 Mack Trucks hosted "UPTIME 2015," its biennial aftermarket conference bringing dealer parts and service managers, Mack aftermarket staff and other service personnel together for featured programs, workshops and breakout sessions designed to teach best practices for maximizing customer uptime and improving the service process.
The three-day event, conducted in Dallas, TX, also featured a trade fair, which offered the latest on aftermarket-related topics, industry trends and improved aftermarket operations.
"Mack is always looking for opportunities to take our aftermarket support to the next level, and this event provides the perfect platform for all of us to collaborate, listen and learn," said Stephen Roy, president of Mack Trucks North America. "Through UPTIME 2015, we're bringing dealers, service professionals, suppliers and our own people together to learn how to best support our customers to keep their vehicles on the road doing the job they were meant to do."
Workshops at UPTIME 2015 covered a number of topics, such as managing preventative maintenance, the keys to improving the diagnostic triage process and new technologies that enhance service, including Mack ASIST, a web-based service management system that connects the customer and dealer to ensure timely information sharing, communication and tracking of service. ASIST also connects with the Mack Uptime Center, a state-of-the-art facility that houses personnel from every aftermarket support function, enabling faster collaboration on critical service events.
Other sessions highlighted investments made to the Mack dealer network. Since 2010, dealers have invested more than $400 million, resulting in a 162% increase in Mack Master Technicians, a 35% increase in service bay capacity, a 62% increase in hours available for service and a 69% increase in spare parts availability.