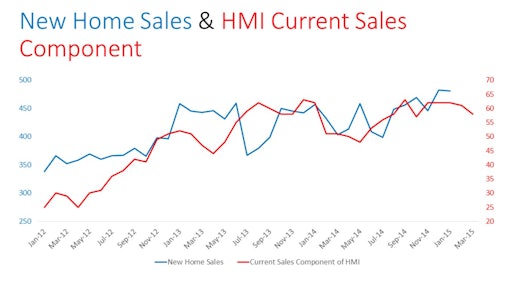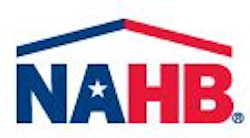 Builder confidence in the market for newly built, single-family homes in March fell two points to a level of 53 on the National Association of Home Builders/Wells Fargo Housing Market Index (HMI), signaling the third consecutive monthly decline in the index. Despite a softening over the winter months, the index has remained above 50 since July 2014, indicating more builders view conditions as good rather than poor.
"Even with this slight slip the HMI remains in positive territory, and we expect the market to improve as we enter the spring buying season," said NAHB Chairman Tom Woods, a home builder from Blue Springs, Mo. The HMI decline was primarily driven by a decline in builders' judgment of current sales where the index fell three points from 61 to 58 — the lowest reading in that component since June 2014.
"The drop in builder confidence is largely attributable to supply chain issues, such as lot and labor shortages as well as tight underwriting standards," said NAHB Chief Economist David Crowe. Lot prices are rising and making it more difficult to remain within buyers' expectations for the final new home price. Adding labor also means forcing up wage rates while potential buyers remain very price sensitive. Appraisals have also hindered sales particularly at lower price points where supply cost increases have the greatest impact on the final price. A number of comments in this month's survey mentioned buyers' desire for bargaining in the face of rising home prices.
"These obstacles notwithstanding, we are expecting solid gains in the housing market this year, buoyed by sustained job growth, low mortgage interest rates and pent-up demand," Crowe said.
Two of the three HMI components posted losses in March. The component gauging current sales conditions fell three points to 58 while the component measuring buyer traffic dropped two points to 37. The gauge charting sales expectations in the next six months held steady at 59.
Looking at the three-month moving averages for regional HMI scores, the Northeast and South each posted a two-point drop to 43 and 55, respectively. The Midwest rose two points to 56, while the West fell seven points to 61. Monthly regional indicators, often more erratic, were up 13 points in the Midwest but down seven points in the Northeast, two points in the South and 11 points in the West. The more dramatic declines in the Northeast and West align with the larger negative changes in existing home sales in January.