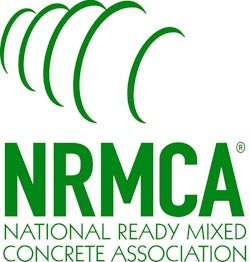 The National Ready Mixed Concrete Association has certified (verified) its 2,000th Environmental Product Declaration (EPD) under its internationally recognized product certification program. Established in 2012, NRMCA's EPD Program aims to help concrete producers meet new requirements in green building rating systems such as LEED v4 and other standards and initiatives, including the International Green Construction Code (IgCC) and the Architecture 2030 Challenge for Products. EPDs are third-party verified (certified) reports published by product manufacturers that provide quality assured and comparable information regarding environmental performance of their products.
Developing and certifying EPDs requires a product manufacturer to go through a rigorous process of conducting a life cycle assessment (LCA) of plant operations and product inputs followed by an extensive review by independent LCA professionals. NRMCA's EPD Program follows the Product Category Rule for Concrete developed by the Carbon Leadership Forum and relevant international standards. Architects and engineers are requesting EPDs for building products as a way to reduce the environmental impacts of the building projects they design. With EPDs, they can objectively compare the environmental impacts of the products they specify against an industry benchmark, or average. NRMCA was one of the first industry groups to publish an industry wide EPD along with industry benchmarks.
"The concrete industry leads all building product categories with over 2,000 products with certified EPDs," says Lionel Lemay, who manages NRMCA's EPD Program. "Combined with the industry wide EPD and benchmarks, concrete producers can now meet the environmental impact reduction goals set in green building programs such as LEED and Architecture 2030."
The major driver is LEED v4 that now has credits for LCA (3 points) and EPDs (2 points). However, even projects not necessarily pursuing LEED certification are beginning to specify EPDs with similar objectives – quantify and lower environmental impacts of projects. Some examples include the new Atlanta Falcons football stadium and the massive California High Speed Rail project.
As is required by the international standards, EPDs are published on NRMCA's Web site. Click here to view them along with more information about the NRMCA EPD program.