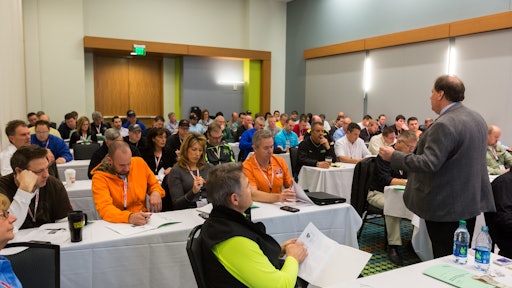 For 30 years National Pavement Expo's conference program has focused on growing and running a profitable pavement maintenance business. This year growing, running and profit-making sessions still dominate, but NPE 2016 has added five sessions that every contracting business can use to protect itself. And they're sessions Allan Heydorn, NPE conference manager and Pavement Maintenance & Reconstruction editor, says contractors should make a special effort to attend.
"NPE is always focused on growth and development to help contractors thrive, but just as important are steps contractors can take to protect their business," Heydorn says. "So this year we invited some speakers to focus on topics that can impact not just the success of a business but its survival. NPE sessions on contracts, lawsuits, collections, temporary workers and safety aren't what we might consider 'sexy' topics, but they are essential and can help protect contractors and enable them to survive."
Those five self-defense topics are:
Contractual Language: Who Is Your Contract Protecting? (Jan. 28) presented by Scott Cerosky, Fairmont Specialty, Crum & Forster Enterprise. Developed specifically for NPE 2016, this session examines the bedrock of every contracting business – the job contract – with guidance on language to use, to avoid and how to "tweak" a contract to protect a business. "With property managers demanding more and more protections for themselves, including requiring language shifting responsibility to the contractor, it's important contractors are aware of what their contract says – and doesn't say – and what liabilities they're open to," Heydorn says. "Contractors can start protecting themselves from the very start of the client relationship by working with an effective contract."
How to Avoid Lawsuits…What to Do if You Can't (Jan. 29) presented by Joshua Ferguson, attorney with Kent/McBride. While this session, also developed with NPE in mind, touches on contracts, Ferguson will also walk attendees through a typical slip-and-fall case, showing what happens and what contractors can do (or should have done in advance) to defend their business. "Even with a good contract you can't protect yourself from everything, so it's best to know in advance what you might be facing. Josh Ferguson covers not only what you could have done to prevent getting dragged into court but also what steps to take to give yourself a better chance of winning," Heydorn says.
Temporary and Contingent Workers: The Weak Link in Your Safety Chain? (Jan. 29) Presented by attorney Adele Abrams. "Contractors using short-term workers open themselves and their business to a variety of legal issues, and this has become increasingly important as contractors rely more on temp workers and as enforcement becomes stricter," Heydorn says. Abrams will discuss increased enforcement efforts to protect these temporary workers, required recordkeeping, tort liability, workers' comp implications and more.
"You Owe Me Big Time!" How to Collect Delinquent Accounts (Jan. 30) presented by Harry Ponder, Carolina Business Services. Just as contracts are the basis for a contractor's success, collections are the final step in a successful job. Ponder will outline what constitutes an effective collections policy and discuss the steps to put such a policy in place. "You can be the best in-the-field contractor doing the best job around, but if you can't get paid – or if payment is too long in coming – that good work your crew did is for naught," Heydorn says. "A comprehensive step-by-step policy to deal with accounts receivables is essential."
How to Set Up and Run an Effective Safety Program (Jan. 30) presented by John Meola and Danny Dennis, Pillar Engineers. Few would argue that safety should be the main focus of every construction business, yet too many contractors don't take the time to develop a written safety program. "Every contractor needs a written safety program, no excuses. Not only do government regulations require it but insurance companies often do as well. And without a good, written safety program there's little for you to fall back on should an accident occur. This is the session that every contractor really needs to attend," Heydorn says.
"These are the types of seminars that people often avoid taking until it's too late," Heydorn says. "We offer them at NPE in hopes contractors can prevent or avoid some of these issues or at the very least can learn how to deal with them should they arise."
For details and to register visit www.nationalpavementexpo.com. Registration on site opens on Tuesday, Jan. 26.
National Pavement Expo is proudly brought to you by