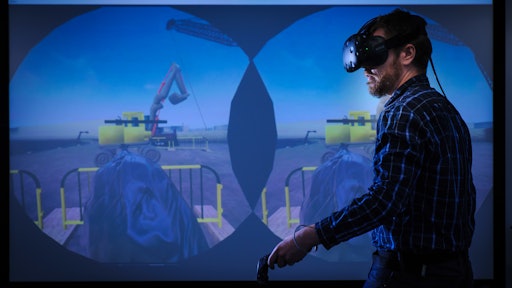 By Sara Jensen, Managing Editor, OEM Off-Highway
As the costs of virtual reality (VR) hardware and software have decreased in recent years, the technology's use within various industries has grown. The heavy equipment industry, for instance, sees the benefits it can provide, particularly to help provide training and improve safety on jobsites.
VR is the computer-generated simulation of a real-world environment or situation. It provides an artificial experience that makes the user feel as if he or she is actually in the simulated environment.
At CONEXPO-CON/AGG 2017, Liebherr was one of a number of companies featuring a VR experience. Liebherr's allowed attendees to step inside its 710 HC-L luffing jib crane currently working on the MoMA Tower in New York City. Designed to offer a real-time perspective, the VR experience featured a game pad which could be used to explore the virtual 3D world. Users could get up close to the crane's hook, fly into the jib or take in views of the surrounding city. In addition, different weather conditions and times of day could be experienced.
Currently, much of the VR technology being developed for the construction industry is for training purposes. By training workers in a virtual world, they can acquire the skills necessary to do their jobs in a safe environment. Simulators that place users in the driver seat of a machine are one of the many forms in which this training technology can take.
[VIDEO] How Construction is Using Virtual and Augmented Reality Today

Bechtel Begins Using Virtual Reality to Train Employees

Ditch Witch is one of many OEMs now offering simulators as a means of providing operator training on their equipment. At CONEXPO-CON/AGG, the company displayed its horizontal directional drill (HDD) virtual reality training simulator, which is designed to simulate a real HDD work site.
According to Greg Wolfe, Ditch Witch director of training, the VR simulator builds upon the company's existing HDD training simulator. "With this new system, operators will be fully immersed within a virtual reality HDD jobsite experience," he says. The technology simulates a real jobsite where operators sit in a virtual drill cab and use joystick controls to operate the drill in realistic environments.
"The simulator is as close as you can get to the actual operation, other than training on a real machine on a physical jobsite," says Wolfe. "Adapting the simulator into a virtual reality experience heightens the user's sensory factors to a different level in a 'non-dynamic' environment."
By training operators in a virtual environment, they and the equipment are not put at risk. In addition, excess depreciation on equipment is eliminated as it is not being used for both training and work tasks. The VR simulator also allows users to travel to another jobsite at any time by simply hitting a reset button, helping to decrease the overall cost of training.
Creating a Safer Work Environment
Wolfe says the backbone of the Ditch Witch simulator technology is an algorithms the company created 15 years ago for its first HDD simulator. It worked on the VR simulators with METECS, an automation, simulation and software company that has developed simulation products for NASA's training efforts.
The VR simulator provides training for Ditch Witch's entire suite of HDDs and in various environments, from urban to rural. Wolfe says users will be able to control a drill unit exactly as they would on a real-world site, with the same vision points replicated on the simulator. "We have placed underground utilities within the expected path of the drill, simulating the need to avoid real jobsite challenges," he says.
After each course, an overview is provided to give the operator feedback on their performance, which also includes steering and utility hits. "By addressing these mistakes in the simulator, the operator can learn from them and avoid similar mistakes as their training progresses," Wolfe notes.
Safety was the driving force behind Ditch Witch's creation of the VR training simulator. Also underlying that benefit is the reduction in total cost of equipment ownership. The number of mistakes made on the job can be decreased, and productivity increased, as there will be less of a learning curve once a new operator sits in an actual machine on a real site.
Training on the simulators aims to connect classroom knowledge with operational experience, and provide an engaging format in which an operator can arrive on a project with the confidence to handle a piece of equipment.
"On-the-job training has been the primary method of training for decades, and we still incorporate this component after the operator has completed our recommended 40 hours of training," says Wolfe. "You combine this learned skill with our online Ditch Witch Certified HDD Training courses and we believe we've provided a product that helps improve productivity and jobsite knowledge to that participant before he or she is ever on an actual jobsite."
Researching VR's Training Potential
Researchers at Rhur-University Bochum (RUB) in Germany are currently investigating the possibility of interactive training courses using VR to increase safety on construction sites. Their goal is to have workers experience the various hazards they would encounter on a site in order to sensitize them and ultimately prevent accidents from occurring.
Three-dimensional modeling using computer game technology enables the researchers to create the virtual world. In order to properly familiarize workers with the potential job hazards, the VR world is designed to be a replica of the actual site on which the trainees will work. Various real-world elements such as sound, surface textures, shadows and construction equipment are included within the virtual environment to provide as realistic an experience as possible.
Trainees wear fully-enclosed VR goggles to completely immerse them in the virtual world, and use a hand-held control device — similar to a remote control — to interact with objects.
The researchers see this technology being primarily beneficial to occupational health and safety planners as a supplement, if not a replacement, for printed training materials, presentations and films. Jochen Teizer, an internationally recognized safety expert for the construction industry who is aiding the research team, said in a press release about the project that such types of training materials are on par with watching television, in that they tend to have a lower rate of success at lasting learning. In the future, the researchers believe all construction workers could be trained using VR technology and have it customized to individual needs and work tasks.
[VIDEO] One CM Labs Simulator can Train Operators on Multiple Types of Equipment
[VIDEO] Caterpillar Pioneers Augmented Reality to Improve Operator Safety, Productivity
Engaging the Next Generation
The gaming industry has helped to make VR technology more commonplace, which in turn has reduced its costs and enabled it to be more easily researched and applied to other industries. While the costs are still high, they will continue to go down as its use grows.
Much like younger generations' familiarity with video game controllers has influenced the evolution of machine controls, VR's increasing availability and use could have an impact on the heavy equipment industry. Wolfe says the Ditch Witch VR training simulator was developed to take advantage of the tech-savvy generation of operators entering the industry.
"HDD operators are in high demand, and this VR simulator technology engages with that next generation of drill operators entering the market," he says. "Contractors need to find available talent and utilizing VR capabilities in training and other areas provides a direct link to emerging talent without the risks associated with more traditional training methods.
"VR will be an important component of Ditch Witch's training program in the future, and we see opportunities to expand the technology into other product areas," Wolfe continues. "Any technology that helps improve safety and productivity are constantly evaluated."