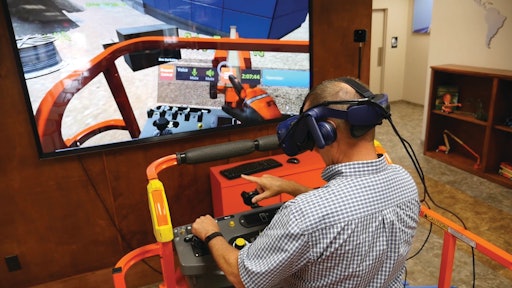 In about five years, virtual reality and simulators have progressed from prohibitively expensive and rather static to practical work-platform training solutions. Bal Guerrero, United Rentals Academy director, says rapid evolution of VR headsets, computing power and software has created a quality, consumer-ready digital training experience for mobile elevating work platforms (MEWPs).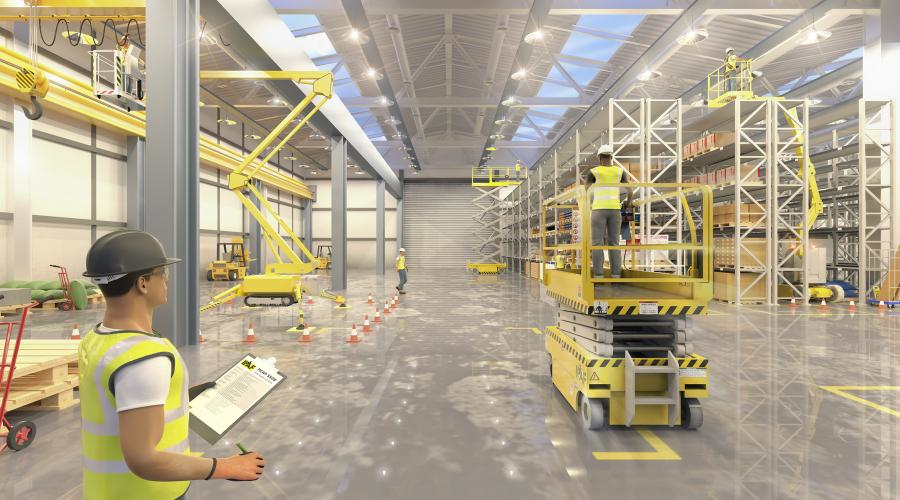 United currently employs a VR system developed by IPAF member firm Serious Labs at its training centers. "VR training provides several great advantages in skills development," says Guerrero. "Among them, it gives instructors the ability to communicate to the operator with absolute precision what is done well and where areas of improvement need to be. Even the best trainers can't identify all behaviors during training and evaluations. Computers and sensors can, and that becomes critical when looking for consistency in training programs."
"VR places the operator right into the jobsite experience," adds Jim Colvin, Serious Labs president and CEO. "Our system is comprised of a replicated platform, actual machine controls, and a head-mounted display. The platform also features four full motion actuators to provide forced feedback responses to increase the believability of the experience while avoiding Simulator Adaptation Syndrome (SAS), a commonly reported result of simulators that don't physically move in concert with what the operator is seeing in the headset."
The Serious Labs' MEWP simulator offers:
33 training scenarios plus three practical evaluations
nine training paths ranging from basic to advanced for remediation on basket placement
driving and general skills development on both scissor lift and boom lift.
"This is not a video game," Colvin emphasizes. "Our solution replicates the entire experience including sound, motion, and vision, in any of increasingly difficult training scenarios for both the boom lift and scissor lift. If the operator dropped a wheel off the side of a truck while loading a simulated boom lift, he will feel the platform move, or if he backs into an object, the platform will jerk. The VR headset also tracks exactly where the operator is looking, and the controls measure the exact behaviors of the operator. At the end the Serious Labs VR Sim delivers a multi-dimensional, objective evaluation of the operator's skills and behaviors, then points the operator to areas of improvement including a remediation plan on the simulator.
"By practicing what they're trying to learn versus being in the classroom, students reportedly retain 90 percent of the training experience. And since the simulator is portable, it can be placed at a construction site, inside a training van, or at training centers."
United Rentals is using the simulators to train, assess, and remediate customers who rent their equipment. The objects are to improve their safe operation of the equipment, and to improve efficiency. And the training tends to stretch equipment life.
Simulating dangerous situations is good for the customer and for the rental company. "Operators are exposed to conditions that conventional training could never safely recreate. And by objectively tracking and measuring operator attributes that are difficult for trainers to observe with the human eye from the ground, operators can be trained well beyond 'just enough, just in time,' better, faster, cheaper and safer."
Guerrero agrees. "There's no question the most important benefit of VR is safety, reducing workplace incidents. But VR training can also enhance efficiency by measuring the time needed to complete tasks and identifying any activities that are being performed at below average levels and need to be improved. Using a simulator also means equipment doesn't have to be pulled from operations for training, and reinforcing good operator behaviors can result in lower maintenance and repair costs."
Practical applications
 "Over the past two years, MEWP simulators have made incredible advances" says Giles Councell, director of the International Powered Access Federation (IPAF) operations. "Always looking for better ways to train our members and operators, we've been working with suppliers such as Serious Labs to determine the role that VR and simulators can play in training now and into the future."
IPAF launched an industry-wide consultation in January 2018. A key element of the study was to introduce its members to VR technology using a loaner simulator from Serious Labs. Members had opportunities to try the simulator at industry events, and later respond to a survey about its efficacy as a training tool.
"Survey participants identified three areas where simulators could play an important role – in refresher training, in renewals of a MEWP operator's Powered Access License (PAL) Card, and in PAL + Training where operators receive advanced training to work in high-risk scenarios," Councell adds. "They felt the technology could be an effective tool to prepare novice operators for practical hands-on testing, but not to replace the testing itself."
JLG formally introduced its VR simulator, AccessReady XR, to the industry this spring after nearly three years applying it in the field. "We started down this road seven or eight years ago when we introduced a PC-based simulator," explains Rick Smith, director of Global Product Training for JLG. "It was designed to allow people in a training class to fire up their computers and operate a machine's controls with the mouse."
That PC version gave users some familiarity with the controls, but is only a distant relative to AccessReady XR. The new iteration, as Smith notes, puts users on a platform with controls identical with the company's boom lift. "I sometimes laugh when trainees first get on a real boom lift and tell me, 'this is exactly like the sim.' I say, no, the sim is exactly like the real machine.
"The simulator seriously reduces the learning curve for new operators prior to them ever stepping on to an actual boom lift platform," Smith adds." For a typical scenario, trainees go from taking 10 minutes to complete a task to maybe seven minutes and finally four where most seem to settle.
"AccessReady XR features open scenarios where trainees get scored for driving to and reaching various boom targets. If instructors are wearing headsets, they, too, can virtually be on the platform with trainees or be at another location entirely, including any of three JLG training centers around the country."
Smith notes the simulator, which sells for around $24,000, is ideally suited for rental houses that perform ongoing training, union shops, and larger construction companies that train on site. Currently set up to train boom lift operators, a scissor lift version of the simulator will soon be available.
Down the virtual road
"Large organizations are using virtual reality to confirm equipment operator skills of new hires, contractors, and vendors before they work at their facilities. Companies are also using the technology to retrain operators involved in an incident and reinforce positive behaviors," says Guerrero. "At United Rentals, we believe as more companies adopt this approach, VR will not only gain more acceptance within the industry, there will also be a tipping point at which point it will become the preferred option to confirm or improve operator skills."
In five to 10 years, look for VR and other technology to supplement or replace aspects of traditional classroom training, adds Smith. "Trainees developing and improving skills right from their own homes and selecting instructors located virtually anywhere in the country is a real possibility. Instructors will likely be able to share their scenarios with others, storing a wealth of information that will make the industry a safer place to learn and work. That is not to say that classroom training will be replaced entirely, as face-to-face training will still have significant relevance for many.
"But training is just one benefit VR brings to the industry. Virtual space is where one trains autonomous machines. Who knows? Operators may one day be able to safely operate boom lifts from their office or home."
Virtual reality has already taken the safety, convenience and cost of simulator training to new heights. It will have the opportunity to play an even larger role as the industry looks for better ways to make training safer, easier and more efficient.
Related Content
Serious Labs Developing VR Simulator with Skyjack
Caterpillar Brings Safety Training to a New Level with Virtual Reality
[VIDEO] Serious:XR Uses Virtual Reality to Train and Assess Distant Operators
[APP] Virtual Reality App Helping Contractors with Fall Protection Training