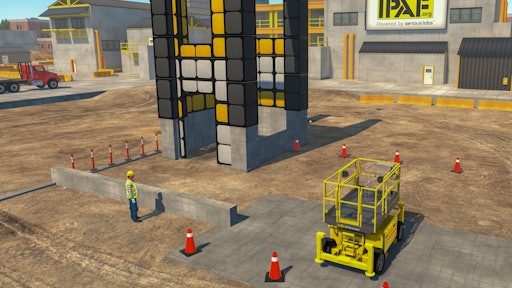 Serious Labs, a leading provider of virtual reality (VR) solutions for training and operations of heavy equipment such as cranes and aerial boom lifts, announced it is working in conjunction with the International Powered Access Federation (IPAF) to develop PAL+ VR training modules. PAL+ training can now be completed for the first time on a VR simulator. The announcement was made at the IPAF INNOVATE event in Chicago.
PAL+ training tests existing Powered Access Licensed-Registration (PAL) card holders at a more advanced level than required for the PAL Card operator license. Completion of the course will also renew a PAL Card holder's license for another five years. IPAF's PAL Cards are recognized globally as proof of the highest standard in Mobile Elevated Work Platform (MEWP) operator training.
A Serious Labs MEWP VR simular is being exhibited by United Rentals as part of the INNOVATE event's "Innovation Stations", which feature new products and technology. The demonstration is providing a preview of the new PAL+ training modules to industry attendees.
Serious Labs Provides VR Simulation for United Rentals Training Centers
"Operating access equipment on a worksite requires a high level of training and awareness. When you combine the dangers of the work site with a lack of operator competency, the risk of incidents begins to rise," said Jim Colvin, CEO, Serious Labs. "Being able to improve and develop operator competency and skill through IPAF's PAL+ training modules via a VR simulator is simply the future of efficient, safe and proficient operator training."
Real Future for Virtual Reality in Aerial-Lift Safety
On Monday, IPAF announced that it is conducting "controlled trials" with some of its training members in Europe and the US to deliver PAL+ training that will test candidates using Serious Labs' VR MEWP simulators instead of real machines. IPAF's PAL+ operator training was developed in response to increasing demand from contractors for a recognized qualification demonstrating advanced operator proficiency and signifying a certain level of experience in using different types of MEWPs in a variety of challenging environments and scenarios.
The powered access industry is on the cusp of a VR revolution, according to IPAF's Giles Councell, with simulators now so advanced that IPAF is confident they can be used for operator training and assessment.
According to Giles Councell, IPAF Director of Operations, the powered access industry is on the cusp of a VR revolution, with MEWP simulators now so advanced that IPAF is confident that they can now form an integral part of delivering candidate training and assessment. If the trials are successful, IPAF says it will look to fully develop the IPAF PAL+ course into eLearning and VR by developing a digital version of the theory module and simulated pre-use inspection to be launched later in the year.
The controlled trials are expected to run from July to October, with a launch scheduled to occur in Q4 2019."The new PAL+ VR modules are the next step in training innovation. This is the first step on the pathway to 'training in a box' – a one-stop shop to certify operators," said Colvin. "Not only is simulator training engaging, cost-effective, and safe, it provides trainees with better capabilities, while decreasing the potential for accidents and fatalities — something which is better for everyone."
Related Content

Serious:XR Extended Reality Training to Preview at Bauma

Can Virtual Reality Make Construction Safer?

Virtual Reality Simulators Enhance Equipment Operator Training