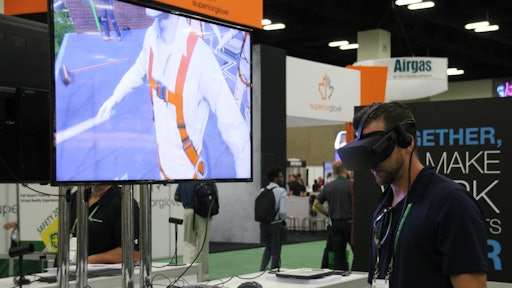 Web-based app: ASSP VR Fall Protection Experience
Developer: American Society of Safety Professionals
Cost: $500
Available on: PCs that meet Oculus minimum specs
The American Society of Safety Professionals (ASSP) VR Fall Protection Experience is a web-based application where construction workers can learn best practices through a virtual reality application. Workers can train in settings that mirror actual environments without the dangers of the high-risk tasks. A virtual reality training environment offers realistic exercises where hands-on training isn't feasible, reduced training cost and consistent training for every worker, according to ASSP.
The main objective of the app is to prevent injuries and fatalities cause by jobs at height. The application focuses on hazard identification and building a fall protection system. It follows the ANSI/ASSP Z359 Fall Protection and Fall Restraint standards.
How does it work? According to ASSP, "The app provides an immersive 3- to 5-minute experience in which users wear a headset and enter a virtual environment to learn how to operate safely when working above ground." While they navigate a two-story building they identify common fall hazards.
"We created a good cross-section of hazards that users might see when working at height," said Thomas Kramer, P.E., CSP, vice chair of the ANSI Z359 Accredited Standards Committee and fall protection subject matter expert for the app. "Whether a user is construction-focused or maintenance-focused, the app helps them be aware of hazards that are not necessarily obvious."
Once a user has identified fall hazards they build a fall protection system for a coworker. This involves choosing between four anchor points, three harnesses and three lanyards. The users select and inspect the equipment. Then they get to see it in action on the coworker. The user's performance is assessed at the end of the experience.
The ASSP VR Fall Protection Experience costs $500 with access for 30 days. It also has a maximum of five downloads. Users are also required to have their own Oculus Rift VR headset and a PC that meets the Oculus minimum specs.
While ASSP hopes the VR Fall Protection Experience will help raise safety awareness, it is only a tool and not an exhaustive training course.