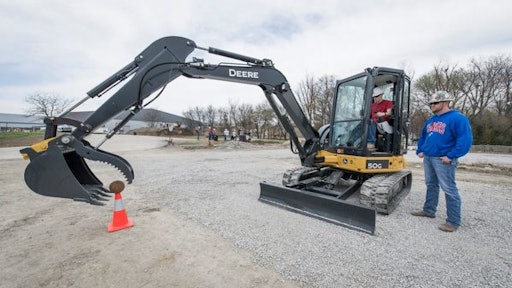 Pittsburg State University would like to invite students and area contractors to attend the 4th Annual School of Construction Expo. The SOC Expo will be held April 6th, 2016 at the Kansas Technology Center in Pittsburg, Kan. The event will also feature seminars the evenings of April 5th and 6th. This event is open to contractors and students majoring in Construction Management or Engineering. This year select high schools are also invited to showcase the construction industries needs and technology.
The Expo will give attendees the opportunity to operate construction equipment, explore new technologies, and get hands-on experience using construction related tools. Organizers of the event realize not all university students can attend a World of Concrete, MINExpo or other national shows.
"Our Expo started fairly small a couple of years ago, with students getting the opportunity to operate a small variety of earthmoving equipment obstacles," says Seth O'Brien, Assistant Professor
School of Construction at Pittsburgh State University. "Since then, we have had some of the newest in technology and equipment displayed at our event."
This year will be a record breaking year for the SOC Expo in that there will be over 40 companies attending this year to network with attendees and share their knowledge about the latest equipment and technology in the construction sector. .
Activities participants may experience includes, formwork erections, decorative concrete finishes, concrete testing equipment, grade controlled dozers and track hoes, and much.
Here is a list of the companies that are coming this year:
ACI Concrete Placement
Bangert
Blastrac
BlueLine Rental
Bobcat
Boise Cascade
Butterfield Color
Capital Safety
Cater Waters
Concrete Cares
(CPD) Concrete Products Distribution LLC
CPG
Crossland Construction
Foley Equipement
Flintco
FLIR Systems
GluDown (Adhesives Plus)
GTP
Herrell Construction
Helix
Hilti
JE Dunn
John Deere
Lithko
Logan Contractors Supply
Magid Safety
MCA Of Kansas City
Meeks
Milwaukee Tool
Monarch Concrete
Multiquip
Murphy Tractor
Nabholz
NAWIC
Needham
O'Brien Ready Mix
Somero
Super Air Meter
UA (Plumbers Union)
United Rentals
Wacker Neuson
Western Forms
For more information, visit http://www.pittstate.edu/department/construction/construction-expo/.