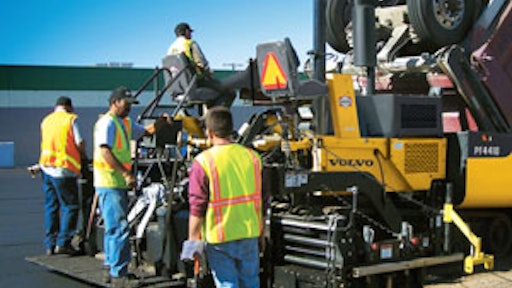 Information provided by:Volvo Construction Equipment
Road construction can be an extremely dangerous type of work, with crew members working in close proximity to motor vehicle traffic and heavy-duty construction vehicles. Driver confusion, inattention, speeding and impairment clearly put workers at risk.
Flaggers and other ground crew can be struck or backed over. Equipment operators can be injured or killed by collisions, overturned equipment or by unsafe interaction with running equipment. Regardless of their assigned duties, every contractor and crew member has a vested interest in promoting and maintaining a safe work zone.
There are a number of general areas of emphasis that should be addressed as part of any work zone safety efforts. They are:
Traffic control - both public and equipment
Ground crew safety
Equipment safety
Night work illumination
Emergencies
Traffic control
In order to ensure the safe movement of traffic through the work zone, road construction contractors should devise temporary traffic control plans (TCPs) for their sites, as well as follow the standards as specified in part six of the Federal Highway Administration's Manual on Uniform Traffic Control Devices (MUTCD). They should also devise plans for how construction equipment will move throughout the area of work activity.
MUTCD
This is a document issued by the Federal Highway Administration that specifies the standards by which traffic signs, road markings and signals are designed, installed and used - even mandating the shapes, colors and fonts used in road markings and signage.
TCPs
Temporary traffic control plans define the flow of traffic through the work zone to ensure the safety of the motoring public. They should be designed and implemented to reflect safety management principles. Specific issues to address when devising a TCP include proper documentation, crew orientation, traffic crossovers, worker safety buffer zones, use of channelizing devices or protective barriers and traffic rerouting or road closures. The TCP and work zone should be periodically reviewed for overlooked hazards and potential improvements.
Internal traffic control plans (ITCP)
While TCPs are intended to ensure the safety of the motoring public through the work zone, they do not address how things move within the work zone itself - where the majority of injuries and fatalities occur. Having defined the TCP for a given work zone, a project manager then needs to develop an internal traffic control plan (ITCP), which defines the flow of construction vehicles, equipment and workers within the activity area.
A contractor's thorough plan would assign a specific individual on the project who would serve as a coordinator of the ITCP and would specify his or her role and authority for implementation, incident response and reporting. It would also define a specific process for reviewing unsafe incidents and potential hazards. Crew-member training should also be an integral part of any ITCP implementation.
Ground crew safety
Tragically, in addition to accidents involving passing motorists, scores of ground crew workers are injured or crushed to death each year by equipment operators who are backing up and don't see the crew members. These horrific accidents can be prevented through defensive practices, crew attentiveness and the use of high-visibility safety apparel.
Maintain separation
The ground crew should be kept away from moving equipment as much as possible. Truck traffic in and out of the area should be channeled and workers should be instructed to stay clear of the path. The ITCP and work areas should be designed to avoid or decrease backing up and blind spots.
See and be seen
Everyone on the crew should be trained to maintain visual contact between those on the ground and the equipment operators. Equipment operators should never move a piece of equipment without making positive visual contact with nearby ground crew. Everyone should be trained in the use of hand signals in noisy environments.
Use of flaggers
The ideal situation would be to avoid using flaggers on the jobsite, especially if the circumstances involve high traffic speeds, night work or limited visibility. In these circumstances, it's safest to employ other traffic control measures such as lane shifts or portable / remote-operated traffic signaling.
If flaggers are used, it's important that they be thoroughly trained on the work zone setup, TCP, ITCP and proper placement of signals or barriers. They should also be authorized to monitor operations within the work area, to report hazardous situations and to halt operations if a hazard arises. If multiple flaggers are used, they should maintain appropriate sight distance or be outfitted with two-way radios.
High-visibility apparel
All ground crew workers are required to wear high-visibility safety apparel, such as retro-reflective arm bands, hats and vests.
Rear-viewing cameras
While the above-mentioned safety measures certainly can reduce the number of tragic accidents in a work zone, they don't prevent them entirely. Statistics show that one of the largest causes of work zone deaths each year is when a ground crew member is backed over by moving equipment. Even backup alarms aren't foolproof, given the sound and commotion on a typical site. The investment in rear-viewing video camera technology can more than pay for itself by eliminating blind spots and preventing backup accidents.
Equipment safety
In addition to the skill and training required to operate heavy equipment productively, diligence is necessary to ensure the equipment is being used safely.
Allow only trained or authorized crew members to operate or repair equipment - assigning each piece of equipment to a specific individual
Make sure all equipment and operators are properly licensed
Assign a supervisor to perform daily equipment inspections, making sure that equipment repairs are made and scheduled equipment maintenance is performed and documented
Lock out all operator controls on equipment being repaired in the field
Set parking brakes when equipment is left unattended; chock wheels when on an incline
Keep operator manuals with equipment
Mandate that operators report equipment problems; give employees authority to shut down unsafe equipment
Equipment should have rollover protective structures (ROPS)
Night work illumination
Visibility is a critical issue with nighttime road work. Ample lighting should be present in the work zone, in addition to mandating that all crew members wear proper reflective safety apparel. The lighting should be installed to ensure proper illumination for workers, while minimizing glare. Workers should be encouraged to stay clear of unlit areas.
Emergencies
In many cases, injured crew members die while awaiting the arrival of emergency response paramedics. When an accident happens and a worker is severely injured, the chance of survival is increased if, at the very least, members of the road crew are trained to provide cardio-pulmonary resuscitation (CPR). Ideally, someone on the crew will have first responder training as well.
Work zones are dangerous places. With thousands of hurried, often distracted motorists zooming past and thousands of tons of heavy equipment rumbling about, there is often very little margin for error. Unfortunately, when an accident happens, the result can be catastrophic for the contractor, horrific for the crew and tragic for surviving loved ones.
There is no single solution to improve safety in the work zone. But if the issue of safety is addressed from numerous angles, the risk of worker injury and death can be greatly reduced.