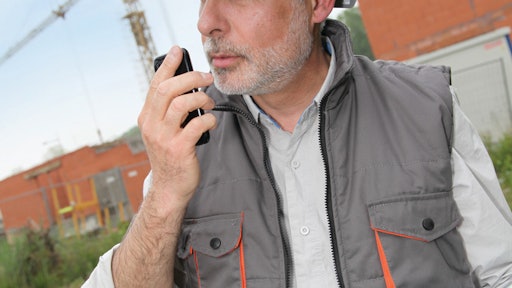 Construction sites are often highly dispersed, noisy and potentially dangerous work environments, making effective communication challenging on various levels. One essential component to maximizing the productivity, efficiency and safety of crews is real-time communication between teams of mobile workers.
Historically, contractors have had limited communication choices. Radios offer the immediacy and reliability of push-to-talk communication. However, they are built on private networks, limiting the communication range and requiring the continual purchase of often expensive and bulky, single-purpose devices. Similarly, carrier-based solutions offer a radio over a cellular network. While these devices are less expensive and more practical, you are still locked into a specific device and service provider with limited functionality and limited coverage area.
A better communications option
A better way to achieve real-time push-to-talk communication is to allow any smartphone or tablet device to connect over any data network, essentially creating a single, geographically unrestricted network. These software solutions can help construction companies leverage their existing communication infrastructure and take advantage of these devices to experience seamless two-way communication.
Software communication solutions improve teamwork by reducing human latency and making all workers readily accessible and available instantly. Crew efficiency and work-site productivity are improved when workers have network and device independence, allowing collaboration to occur from any location at any time on any device. A project manager on an Android can easily communicate with a superintendent at another jobsite on a Blackberry, with crews on their radios and with the office via a landline phone.
In addition, the richness of smart devices and networks allows workers to take advantage of the numerous applications that can improve their productivity. GPS capabilities can help contractors keep track of equipment fleet and crew locations and deploy resources as needed. Data collection devices can also be integrated, allowing the flow of information to improve and, in turn, enhancing decision-making and approval processes. Software integration can also further improve task allocation and maintenance processes, as well as monitor the progress of work and the health and safety of workers.
Such applications can easily be incorporated on any smartphone device, tablet, PC or specialty device. This allows disparate communications systems to be unified and operations to be improved.
A new WAVE
WAVE Connections is a next-generation push-to-talk service that turns ordinary smartphones into push-to-talk devices and allows mobile workforces to connect and converse instantly through a secure, private network. It serves as a cost-effective alternative to traditional single-function radios and proprietary carrier solutions. It also allows users to extend other smartphone capabilities beyond voice - including data, location and presence - over any carrier data or Wi-Fi network.
In addition, the web-based application allows any office-based or mobile worker to monitor, transmit and receive audio from multiple WAVE Connections channels using a standard PC or laptop. This further enhances communication between workers in the field and the office, improving latency and reducing time delays.
Software-as-a-Service (or Cloud) solutions like WAVE Connections offer the commercial construction industry the push-to-talk they rely on over any network on whatever device they choose. This freedom can open construction companies to better ways of doing business and new ways of saving time and money.
James Mustarde is the marketing director for Twisted Pair Solutions, a leader in critical communications applications for commercial, public sector and defense organizations worldwide and the operator of WAVE Connections. You can contact him at james.mustarde@twistpair.com, or visit www.twistpair.com for more information.