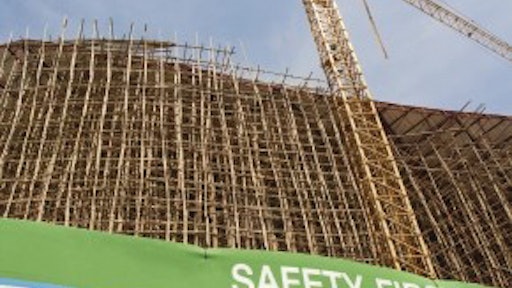 Construction sites tend to be full of potential electrical fire dangers. Fires on construction sites happen all too frequently, and they pose a tremendous risk of serious injury or even death for the workers on site. Construction site fires also pose a risk to the general public as well as the property around a jobsite. Damage to both the worksite and the surrounding property can add up to significant, unforeseen costs to a construction company.
(Video: Construction Electrical Safety...)
The awareness of electrical and fire hazards on construction sites has grown through the years as frequent incidents of fires and accidents could not be overlooked. Improvements in general construction site procedures and safety measures are already making a difference, but more can always be done.
Some of the major areas of concern in terms of the risk of electrical fires are whenever any large, high-wattage power tools are in use. The potential for electrical fire is heightened whenever portable generators bring electricity to a jobsite or when a new electrical system is being installed or tested in a building.

You can reduce the likelihood of electrical fires and other electrical accidents by taking a few precautions.
General Preventative Safety Measures
Put an effective lockout/tagout on live, energized circuits
Wear protective eyewear and appropriate gloves while working
Keep the work area neat and tidy by removing all debris daily
Avoid mishaps by installing guard rails if working on elevated surfaces
(Read OSHA Construction Electrical Standards...)
Provide Adequate Training and Supervision
Be sure to provide thorough, up-to-date training and supervision for all of your employees, especially those working directly with electricity. Pay close attention to new employees so that you can ensure they know how to handle themselves around high voltage equipment.
Safety During Welding
The welding, cutting and brazing processes can produce sparks and extremely hot flying particles. Showers of sparks can move molten metal far from the work area where they are not seen, and could start a fire. Put shields around the welding site to prevent this. Remove all combustible materials, liquids and containers from the work area. Position tool cords safely and make sure sparks or molten metal do not burn any power cords.
Temporary Electrical Service Safety
At times a construction site requires a temporary electrical service to be installed outside of a building in progress until the building has its own electricity system. If this is the case, make sure the temporary service never becomes overloaded. Take measures to ensure that they're protected from any stormy or rainy weather.
Onsite Fire Extinguishers
Be sure to provide the correct type of fire extinguishers onsite for the specific tasks your employees will be performing. The Occupational Safety and Health Administration (OSHA) lists five primary types of extinguishers available for the workplace and personal use. They run from A to E, but type C fire extinguishers are the ones used for electrical fires - whether caused by electric motors, fuse boxes or welding machines. Be sure to have them on hand whenever electricity is in use at your jobsites.

Follow these basic guidelines, exercise common sense and you and your employees will enjoy a safe and productive jobsite.
Jessica is a regular contributor at Instructions Optional, where she focuses primarily on DIY construction projects. When she isn't wielding a keyboard or a hammer, she's digging into the world of commercial construction and blogging on behalf of Grainger, an international supplier of electrical management solutions. Follow her on Twitter: @JessStark9.