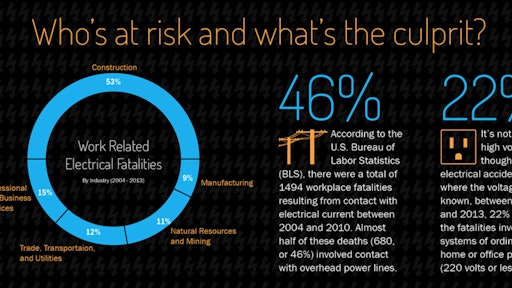 Here's the good news: electrical workplace fatalities have been decreasing over the last few decades. Now for the bad news: the construction industry is still the most at risk industry for electrical workplace fatalities.
According to a recent electrical safety injury infograpic from Graphic Products, from 1992 to 1996 an average of 327 U.S. workers died from electrical accidents. That number has dropped 50% with the average deaths due to electrical incidents from 2009 through 2013 dropping to 161.
[VIDEO] How to Avoid Electrical Hazards on the Construction Jobsite

Despite the positive trend, the construction industry still remains most at risk for both fatal and non-fatal electrical injuries. According to Graphic Products' data, 53% of the work-related electrical fatalities between 2004 and 2013 occurred in the construction industry. The next closest industry was the professional and business services with only 15% of the recorded electrical fatalities. According to data from the Bureau of Labor Statistics (BLS), there were 1,494 electrical related fatalities between 2004 and 2010. The construction industry account for nearly 792 of those deaths. Of those fatalities, 46% involved contact with overhead power lines — a common hazard on some construction jobsites.
Construction was also the top industry for work-related non-fatal electrical injuries between 2003 and 2010. Construction recorded 26% of those non-fatal injuries with a variety of other industries following with 16%. According to BLS data, 20,000 non-fatal electrical injuries were recorded during that time period. That means there were 5,200 non-fatal electrical injuries in the construction industry. Seventy-two percent of the total injuries were caused by touching live conductors such as machines, tools, wiring and other electrical components.
In 2015, general electrical safety was the 10th most cited OSHA safety violation.
[VIDEO] Electrical Safety Awareness for Non-Electrical Workers

According to OSHA, the most frequent causes of electrical accidents include:
Contact with power lines
Lack of ground-fault protection
Path to ground missing or discontinuous
Equipment not used in manner prescribed
Improper use of extension and flexible cords
Safety - Electrical Hazards on Construction Sites
The National Institute of Occupational Safety and Health (NIOSH) adds to that list:
Inadequate electrical safety training
Failure to follow OSHA, National Electrical Code and National Electrical Safety Code requirements
Lack of lockout/tagout procedures and implementation
Failure to implement and follow recognized safe work procedures
Inadequate or failure to use or provide personal protective equipment
[VIDEO] Construction Safety 101 - Never Assume Electrical Safety
What's in your safety program?
Electrical safety on the construction jobsite is twofold. First, is training. Second, and maybe more importantly, is ensuring employees are following their training and procedures. What good is preaching safety if your workers are ignoring it on the jobsite?
A NIOSH study of workplace electrocutions from 1982 to 1994 covered 224 incidents that resulted in 244 worker fatalities. Nearly 35% of those incidents (79 incidents) reported that no safety program or written safe work procedures were in place. According to the study, 39 of the victims had no safety training.
Whether or not your construction employees are often at risk, employees should be trained on electrical and arc flash safety. In a survey of arc flash injury victims, 94% believed the incident could have been prevented.
Prevent Electrical Injuries on Construction Sites

The National Fire Protection Association recommends a six-step guide to establishing an electrically safe condition:
Identify all possible sources of power to the equipment.
Use appropriate steps to shut down the power, and then systematically disconnect each power source from the equipment.
Where possible, verify (visually) that all disconnections are complete.
Lock or tag out the power sources to prevent accidental re-energizing.
Use an adequate test instrument to confirm that each part of the equipment has been effectively de-energized, and then verify that the test instrument is working normally.
Where voltage may be induced, or where the de-energized parts could contact other energized parts, apply a ground connecting device rated for the available fault current.
We are surrounded by electricity, and we often forget how powerful it is. Make sure your employees are trained to identify electrical hazards on the construction jobsite and how to safely protect themselves from electrical accidents.