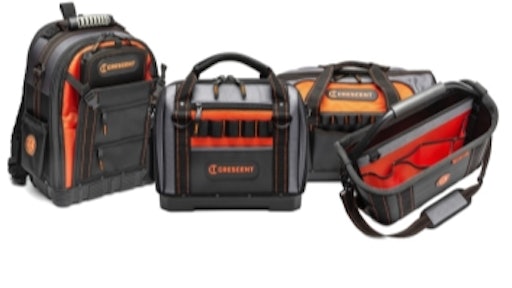 Continuing the 12 Days of Construction Christmas 2019 gift ideas...
One the second day of Construction Christmas my boss gave to me — Crescent Tool Storage Bags
Crescent Tools' new line of tool bags are designed to withstand heavy use in harsh environments like the construction site. The tool bags are available in four styles:
Tradesman Backpack
Tradesman Open Bag (available in 14- and 17-in. options)
Tradesman Closed Bag (available in 14- and 17-in. options)
20-in. Contractor Bulk Bag
All four tool bag styles feature:
High quality zippers
Open-straight pockets for easier access to bottom of pockets
A hard polypropylene base to prevent holes in the bag
External PALS for easy access to frequently used tools
Bright interior fabric
Side pockets for water bottles and clips for tape measures
The backpack features a magnetic closure pocket for quick access to items. All bags feature center panels to separate tools and allow for additional storage sleeves.
Looking for other construction-related gifts? Check out the rest of 2019's 12 Days of Construction Christmas gift ideas: