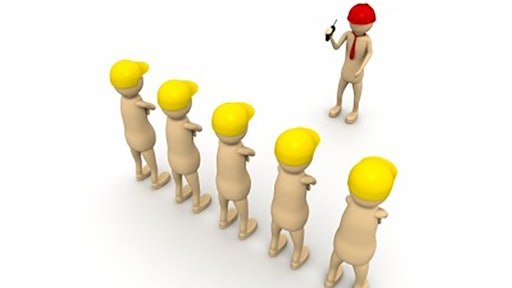 freedigitalphotos.net
September is Workforce Development Month. That's a subject the construction industry has placed emphasis on for a long time as the labor shortage has made it that much more important to develop the workforce you have and the workforce you're bringing in. Workforce development is important for many reason. It's no secret the construction industry workforce is aging. Contractors need to work to develop their younger worker who will be replacing the seasoned workers as they retire and leave the industry.
If you're not putting time and effort into developing your current workforce it will be even harder to replace the workers who have helped your company be successful all these years.
But with the labor shortage the construction industry has also been exploring how to develop the future workforce that hasn't entered the industry yet. This is proving to be more challenging than one would hope. Before you can develop your future workforce you must first get them interested in the industry. There are some college degree programs in construction management and other construction related fields that can help develop these future construction workers. However, apprenticeships, mentor programs and even less formal workshops and hands-on learning opportunities can be useful workforce development tools for construction contractors.
Whether you're focusing on developing your existing workforce or developing the future workforce (or both) one month just isn't enough. Workforce development is a constant responsibility of both construction company owners and construction employees within the company. After all, as a construction employee, wouldn't you want your coworkers to be the best worker they can be to help the job run smoothly and successfully?
There are so many resources available for workforce development. Here are just a few from ForConstructionPros.com. Search our website to find even more.
Workforce development initiatives
Because this is such a key issue for the construction industry, I am always on the alert for workforce development initiatives and programs that construction contractors, colleges or even cities are using. While there are some nationwide initiatives it seems like most happen on the local level. I've read about so many of those over the last few years.
Here are a few programs I've come across. These focus mostly on workforce development for people new to the industry.

Power UP

— An Alabama-based program designed to expose young women and their mothers to careers in the construction industry.

Nontraditional Employment for Women (NEW) 

—

This New York City program has been around four 41 years preparing, training and placing women in skilled careers such as construction.

Suffolk Construction's "reverse mentors"

— Contractor Suffolk Construction sees the value of continuing to develop even its seasoned workforce. On a project back in 2018, the contractor started experimenting with having its younger, more tech-savvy employees mentor some of their older colleagues on digital tools and technologies the older workers are less familiar with.

Construction Pre-apprenticeship Program in South Dakota

— Southeast Technical Institute and the Associated General Contractors teamed up for a pre-apprenticeship program

that pairs high school students with area contractors.

California focuses on pre-apprenticeship programs to develop a skilled workforce
Head Start to the Construction Trades (HCT)

— This program

offers free skilled trades training with no experience required.

Women Building Futures

—

This 15-week training program aims to fill the Tampa market with more skilled workers, specifically women.
Does your construction company or you city/state offer any construction-related workforce development programs or initiatives? We'd love to hear about them at ForConstructionPros.com.
Just for fun
While your taking time out this month to develop your workforce maybe you'll want to celebrate one of these other holidays.
Sept. 5 - Be Late for Something Day (I don't recommend you come late to work, though)

Sept. 6 - Fight Procrastination Day (seems funny that it's the day after Be Late for Something Day!)

Sept. 10 - Swap Ideas Day

Sept. 14 - National Cream-filled Donut Day (I'm all for celebrating any donut-related holiday)

Sept. 18 - National Cheeseburger Day

Sept. 19 - International Talk Like a Pirate Day

Sept. 20 - National Pepperoni Pizza Day

Sept. 28 - Ask a Stupid Question Day (maybe not at work, though)
Did you like this blog? Read more Construction Toolbox blog posts on ForConstructionPros.com.
Also, check us out on Facebook and connect with us via Twitter.