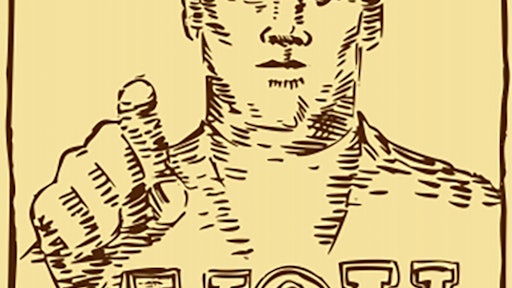 This four-part article series addresses nationwide programs and initiatives developed to recruit and train skilled workers to help fill the construction industry's labor shortage and workforce needs.
Construction employment is up and the unemployment rate is dropping. Yet even with these positive numbers the construction industry is still facing a real threat of worker shortage with the lack of skilled laborers entering the industry. Not only is filling the skilled laborer pipeline important but generating interest in working in the construction industry is may be just as important. The construction industry must work to promote itself and find ways to draw interest from the younger generation, veterans and nontraditional candidates.
Construction Craft Professional Demand through June 2018
"We don't think there's a single silver bullet, but instead there are 20, 30 or 40 different things we need to do as an industry that will help address the problem," says Brian Turmail, senior executive director of public affairs for Associated General Contractors of America. "Who better to work on it than contractors who are used to having 30 to 40 problems they need to solve in a given day.
"They [contractors] have a real opportunity to fix a problem that directly affects them. More importantly, if they're not involved and they're not leading the charge, who's going to? If we don't make the noise we need to then members of Congress and state and local officials are going to move on and focus on something else. People need to understand how critical workforce shortages in construction are to the broader economy," Turmail says.
AGC advocates for development
While Associated General Contractors of America (AGC) has no national training program for new construction workers, the association is very involved in the effort to develop the construction workforce. Two key areas AGC focuses on are advocacy and educational scholarships.
AGC is putting a lot of effort into its advocacy initiatives. In 2014, the association released its Workforce Development Plan, which includes steps federal, state and local officials should take to help make it easier for associations, construction companies and school districts to create career and technical education programs.
"We think one of the big causes for the worker shortages that we're experiencing now is that we have essentially dismantled a once robust vocational education system that existed across this country; so most high school students aren't even getting exposed to the fact that construction is a career to consider," says Brian Turmail, senior executive director of public affairs for AGC.
As part of its effort to improve construction training and education, AGC is calling for increased funding of the Perkins Act, which funds career and technical education programs. The association would like to see the funding increased from the 2014 level of $1.12 billion to a level of $1.30 billion, which matches the 2007 funding level.
AGC believes more funding and additional flexibility for states to select and fund training programs in response to labor market needs would make it easier for school districts to expand their career and technical program offerings.
The association is also calling for changes in anti-trust laws so multiple firms in one market could join together to create and operate a training program without fear that another company will poach recently trained workers.
While the industry still has a long way to go to improve workforce development and refill the skilled labor pipeline, Turmail says AGC has already seen some results from its advocacy efforts.
On the federal level, in 2014 Congress passed the Workforce Innovation and Opportunity Act (WIOA), which will help streamline and reform a series of federal training programs to provide program trainers with more flexibility. The Obama Administration has also placed a new emphasis on apprenticeship and training programs, Turmail adds.
Turmail says the association is seeing a tremendous amount of success at the state and local levels, too. Many governors and school districts are pushing measures to increase funding for career and technical education.
AGC is also very active in helping students who are pursuing construction-related education. Through the AGC Education & Research Foundation, the association provides scholarship opportunities focused on construction curriculum at the college level. The Foundation has been around since 1968, and according to Director Melinda Patrician, has handed out over 3,500 scholarships totaling around $10 million over its more than 40-year history.
Scholarships are funded through endowments from AGC members, supporters and local AGC chapters. The Foundation awards approximately 120 scholarships per year for both undergraduate and graduate programs. Undergraduate scholarships are $2,500 per year renewable for up to three years while graduate scholarships are $7,500 over two years, Patrician says.
In 2015, the Foundation introduced a new scholarship for community and technical college programs. The new craft and technical program scholarship — which is open to graduating high school seniors, students currently enrolled in community and tech-ed construction programs, and veterans — will award $1,000 per year and is renewable depending on the length of the program the student is enrolled in.
In addition to scholarships, the AGC Foundation also offers faculty internships. This initiative creates a partnership between the Foundation, an AGC contractor and an educational institution to provide a summer internship experience for faculty members. Faculty members get the opportunity to spend time on a construction project and gain jobsite field experience and firsthand knowledge that can be brought back to the students.
The program started in 2011 and averaged two interns each summer, but Patrician says seven internships have already been approved for 2015.
"It gives people who have little industry experience the opportunity to spend eight to 12 weeks on the ground in the summer, and it also gives people who have a background in the industry the opportunity to go back and become familiar with new technologies that may not have even existed when they were working in the industry before they went into teaching," Patrician says.
These faculty internships benefit construction contractors, too, by providing quality temporary help.
According to Turmail, contractors have an infinite number of opportunities to get involved in AGC's workforce development efforts, especially at the chapter level. Contractors can volunteer, donate time and materials, mentor or help with lobbying efforts. Turmail encourages contractors to contact their Congressional delegates and lobby for increased funding for the Perkins Act, changes to the anti-trust law and immigration reform, among others.
Washington gets involved
President Obama has proposed multiple initiatives which could help fill the construction labor gap. In January 2015, the President announced his America's College Promise proposal, which would make the first two years of community college free. The program, which would be a partnership with states, necessitates that all parties involved do their part. Community colleges would need to strengthen their programs and increase the number of graduating students. States will need to invest more in higher education and training. And students will need to be responsible for their education, earn good grades and stay on track to graduate.
According to the White House, if all 50 states participate in the program an estimated 9 million students could benefit, and a full-time community college student could save an average of $3,800 in tuition per year.
Additionally, the President's fiscal year 2016 budget request included a proposal to create a $200 million American Technical Training Fund. According to an article from the U.S. Department of Labor, the fund would "enable the creation of 200 technical training centers across the country, modeled on the Tennessee Colleges of Applied Technology." Part of the proposal would include making over $2 billion in grants available to help connect community colleges and employers to develop programs designed to get students good jobs.
Construction college programs
The post-secondary education track is one of many entry points into the construction industry. A quick search on the website U.S. College Search turned up over 1,500 colleges or schools with construction degrees, construction programs or construction courses.
Post-secondary education through these programs includes undergraduate degrees and certification opportunities as well as a Masters degree in construction management.
Nationwide Initiatives Work to Recruit Construction Laborers
Hands-on Training Opportunities Create Interest in Construction Jobs
Apprenticeships are Still a Viable Source of Construction Workforce Development
What is Your State Doing to Develop the Construction Workforce?