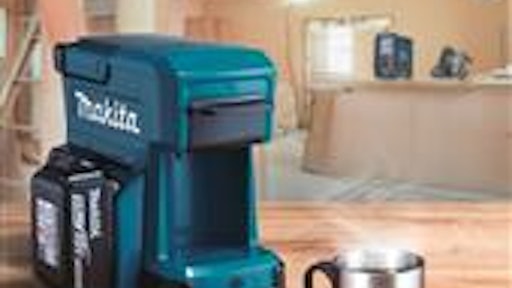 It's that time of year again to be Santa's little helper at your construction company. Over the next 12 weekdays I'll be sharing construction related gift ideas right here to give you inspiration to be the ultimate holiday gift giver at work.
One the first day of Construction Christmas my boss gave to me — Makita Cordless Coffee Maker
Coffee in the morning. Check. Coffee on the jobsite. Check. Coffee maker that doesn't need to be plugged in while on the jobsite. Check.
Makita's 18V LXT/12V max CXT Lithium-Ion Cordless Coffee Maker now makes it even easier to make and have hot coffee on the construction jobsite. No paper filters are needed. Just use your favorite ground coffee or single-serve packs, water and a Makita 18V LXT or 12V max CXT Lithium-Ion battery. The coffee maker will brew up to three 5 oz. cups of coffee on a single charge of the battery.

Included with the coffee maker are a measuring spoon, removable tanks and Makita coffee mug with lit. The coffee maker has an 8-oz. water tank capacity.