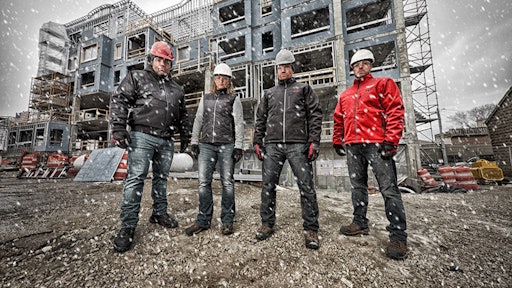 Continuing the 12 Days of Construction Christmas 2019 gift ideas...
One the fourth day of Construction Christmas my boss gave to me — Weather appropriate gear
The construction jobsite is a difficult place to work. Add to that most jobsites are exposed to the elements, and you've got workers laboring for long hours sometimes in extreme heat or cold.
Keep them safe, comfortable and happy no matter the temperature.
Some options:
Milwaukee Tool's line of heated gear includes jackets, hoodies and vests. The updated line of gear features faster heating technology. The gear is powered by the M12 REDLITHIUM Battery technology and use carbon fiber heating elements to create and distribute heat. The heated gear line is designed to distribute heat across core body areas. It features rugged exterior materials and thermal insulating liners that generate and maintain heat to reduce the need for bulky layers, according to the company's press release.
The gear features three heat settings (High, Medium and Low). All heated jackets, hoodies and hand warmers are machine washable and dryable.

The company has also introduced a new category, the M12 Heated AXIS Jackets and Vests. These are a hybrid construction with AXIS Ripstop Polyester to provide a lightweight, compressible design that can be used as an outer shell or mid-layer to protect from wind and water.
Ergodyne Cooling Vests
In 2019, Ergodyne released two new cooling vests: its Chill-Its 6687 Dry Evaporative Cooling Vest and the 6260 Lightweight Phase Change Cooling Vest.
The Dry Evaporative Cooling Vest uses water to keep the wearer cool for up to three days while keeping the wearer dry. The vest is designed to be worn over clothing and needs airflow to activate and cool. It is machine washable, features an elastic wrap waist closure and is available in multiple sizes.
The Phase Change Cooling Vest maintains a temperature of 59º F for up to two hours. It is designed to be up to 60% lighter compared to other cooling vests. It uses two removable, biodegradable phase-change cooling packs that can be charged in a freezer or cooler. Unlike the Dry Evaporative Cooling Vest, this vest does not require airflow to work.
Looking for other construction-related gifts? Check out the rest of 2019's 12 Days of Construction Christmas gift ideas:

Day 1 – Makita Cordless Coffee Maker
Day 2 – Crescent Tool Storage Bags