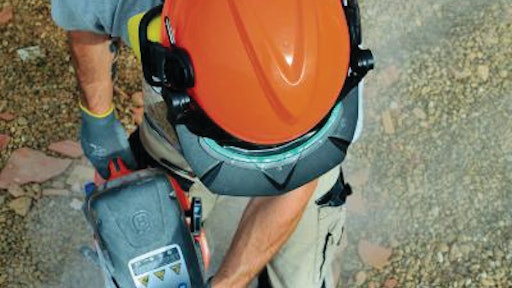 A hard hat should be worn in all situations where there is a reasonable probability of present danger. Each type of hard hat is designed to protect against specific hazards, so it is important to first consider those hazards and any use limitations to determine your proper protection.  Completing a hazard assessment is a valuable tool that can help you identify specific workplace hazards.
Hard hats should:
Resist penetration and deflect blows to the head
Have a suspension system that can absorb the force of impact
Serve as an insulator against electrical shocks (when warranted)
Be water resistant and slow burning
Shield the scalp, face, neck and shoulders.
What's your type?
ANSI categorizes hard hats by impact type. A Type I (top impact) hard hat is designed to reduce the force of impact on top of the head. The Type II (top and lateral impact) hard hat not only reduces the force of an object that may directly impact the top of the head, but also diffuses the force from a side blow to other parts of the head.
ANSI has divided hard hats into three general classifications: Class G (General) is an all-purpose, general helmet that provides good impact and penetration protection, but offers limited voltage protection (up to 2,200 volts); Class E (Electrical) provides the highest level of protection from high-voltage shock (up to 20,000 volts) and is especially well suited for electrical work; and Class C (Conductive) does not protect against electric conductors. It is best utilized to protect from impact against fixed objects.
Note the markings
Helmets that comply with ANSI requirements must be marked with proper certification. Inside the helmet, you'll find the manufacturer's name, applicable standards and the class designation. Hard hats must include the date of manufacture and the manufacturer's name. The hard hat must also be accompanied by the manufacturer's guidelines for care and service.
Inspection, care and maintenance
The hard hat has two basic parts: the shell and the suspension system. In some cases, a chinstrap is applicable.
Each component requires frequent inspection and maintenance to ensure its continued ability to protect the worker. Tips for inspecting the hard hat and extending its longevity are as follows:
Never store a hard hat in direct sunlight
Clean the hard hat shell and suspension system with mild detergent; rinse with warm water.
Inspect the shell for any signs of damage or excess wear, perforations, cracking or deformity of the brim or shell.
Inspect suspension straps for cuts, frays, damage from chemicals, or any other signs of wear.
Never drill holes in the shell of a hard hat unless instructed to do so by a manufacturer. This can lessen the impact resistance of the helmet and can nullify the Class E or G electrical insulation rating.
Do not use adhesives, paints or cleaning solvents on your hard hat unless approved by the manufacturer. They may damage the shell and lessen the effectiveness of the protection. 
For your safety, always replace a hard hat at the first sign of any of these conditions and, most importantly, whenever it sustains an impact, regardless of whether there are any visual signs of damage.
An essential element
Worker safety is always the highest priority on the jobsite, and hard hats are an essential element to providing workers with protection from falling debris, low-hanging objects, and electrical hazards. But, like most equipment, hard hats must be properly utilized and maintained. When the shell shows cracks, chips, holes, dents, discoloration or brittleness, the hard hat must be replaced - never use a damaged or heavily-worn hard hat. Understanding the importance of this information and applying it to safety protocols established can help prevent serious injuries and save lives.