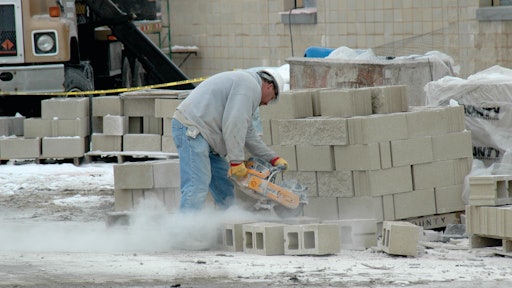 On August 23rd, the Occupational Safety and Health Administration (OSHA) announced a proposed rule aimed at curbing lung cancer, silicosis, chronic obstructive pulmonary disease and kidney disease in America's workers. The proposal seeks to lower worker exposure to crystalline silica, which is reported to kill hundreds of workers and sicken thousands more each year.
Exposure to airborne silica dust occurs in operations involving cutting, sawing, drilling and crushing of concrete, brick, block and other stone products and in operations using sand products, such as in glass manufacturing, foundries and sand blasting. Silica is a known carcinogen and is also known to cause silicosis, a restrictive lung disease.
"Exposure to silica can be deadly, and limiting that exposure is essential," says Dr. David Michaels, assistant secretary of labor for occupational safety and health. "Every year, exposed workers not only lose their ability to work, but also to breathe. This proposal is expected to prevent thousands of deaths from silicosis — an incurable and progressive disease — as well as lung cancer, other respiratory diseases and kidney disease."
Once the full effects of the rule are realized, OSHA estimates it would result in saving nearly 700 lives per year and prevent 1,600 new cases of silicosis annually.
Setting New Limits
According to Michaels, "The proposed rule uses common sense measures that will protect workers' lives and lungs — like keeping the material wet so dust doesn't become airborne. It is designed to give employers flexibility in selecting ways to meet the standard."
The rule includes separate standards for general industry and maritime employment and for construction. The agency currently enforces 40-year-old permissible exposure limits (PELs) for crystalline silica that are outdated and inconsistent between industries. The proposed PEL is set at 50 micrograms of respirable crystalline silica per cubic meter of air (50 µg/m3). This is consistent with the National Institute for Occupational Safety and Health's (NIOSH) current recommended exposure level.
The proposed rule also details widely used methods for controlling worker exposure, conducting medical surveillance, training workers about silica-related hazards and recordkeeping measures.
Industry Outcry
The Construction Industry Safety Coalition, a group of national trade associations from all sectors of the industry, quickly expressed its opposition to the proposal. The coalition says the rule seems to call for one-size-fits-all measures that contradict existing safety and quality assurance practices for different types of contractors.
The coalition states the proposal will drastically lower the existing permissible exposure limit (PEL) for silica, prescribes control methods that contradict existing safety practices and mandates new recordkeeping and training requirements. Independent studies have estimated compliance with similar provisions to cost $1 billion to $2 billion per year.
"OSHA still has not explained how a lowered PEL will be effective at reducing the number of silica-related illnesses, particularly when the agency has admitted its failure to properly enforce the existing standard," says Geoff Burr, vice president of Government Affairs, Associated Builders and Contractors. "The agency clearly missed an opportunity to take a cost-effective approach while still improving compliance and worker safety."
The coalition is urging OSHA to develop technologically feasible alternatives for compliance that address costs and consistency with existing federal regulations and do not overly burden small businesses. In addition, the coalition says the agency should consider factors unique to construction, as industry specific tasks and activities are highly variable and change constantly as projects progress.
For instance, spraying water to reduce dust may be practical in some projects, but using it inside a home while cutting granite counters can cause mold. In cold weather, spraying water while cutting asphalt roof shingles could cause ice to form on the slanted surface, endangering workers. Ventilation and dust capture systems can inhibit the safe operation of tools. And if prescribed measures are not practicable, contractors might be forced to eliminate products with silica altogether, including concrete, brick, granite and other common construction materials.
"We need practical, science-based solutions that protect workers in all facets of construction," says Rick Judson, chairman of the National Association of Home Builders, and a builder and developer from Charlotte, NC. "Unfortunately, OSHA's initial announcement about this proposed rule indicates we aren't there yet."
Not All Opposed
While the coalition represents a sizable percentage of the construction marketplace, not all industries came out in opposition to the new rule. While acknowledging that the proposed PEL level for silica is more stringent than the current regulations, the Silica/Milling Machine Partnership says the asphalt industry is already positioned to meet the standard.
For the asphalt pavement industry, dust from roadway milling operations is the greatest potential source of silica exposure for workers. According to the Partnership, current milling machine technology can ensure exposure levels below the current OSHA standard.
Over the past decade, the Partnership — which is made up of the National Asphalt Pavement Association (NAPA), milling machine manufacturers, labor, academia and NIOSH — has worked to identify simple retrofits for existing milling machines that effectively reduce potential silica exposure below OSHA's proposed PEL. More advanced systems that could reduce dust and potential silica exposure even further have also been studied.
"The Partnership is committed to doing the best work possible to ensure that workers are safe and that any silica exposure is reduced to the absolutely lowest level possible," says Tony Bodway, operations manager for Wisconsin-based Payne & Dolan Inc. and chairman of the Silica/Milling Machine Partnership. "These are complicated field trials, with lots of coordination and effort, all while working alongside government occupational health agency personnel. Everyone involved has been focused on ensuring we do our best."
While the proposed PEL is achievable, as part of the federal rulemaking process, NAPA will file comments offering suggestions to help better calibrate the rule to the industry's exposure potential.
In the coming months, NIOSH is also expected to release a best practices document for roadway milling based on the Partnership's work.