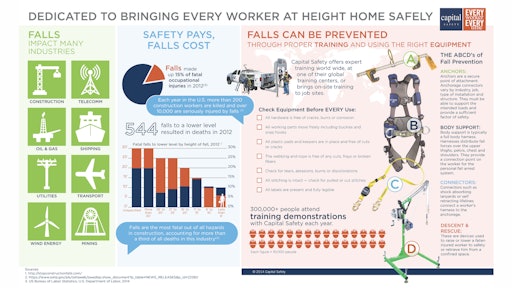 In June, OSHA launched a week-long campaign called the National Safety Stand-down to Prevent Falls in Construction to raise awareness for fall prevention. This was a highly focused effort by OSHA, the construction industry and labor groups to ramp up fall protection and prevention safety awareness and compliance across a wide range of business sectors. The results are not in yet, but suffice to say, just the fact that fall protection was hauled into the spotlight will do a lot to help the trades buckle up and clip on. The major of industry players very nobly showed their safety leadership and stepped in to do their part.
There was another party to this discussion about fall protection, but they had more of a non-speaking role in the National Safety Stand Down. The United Support and Memorial for Workplace Fatalities (USMWF) is a non-profit based in Lexington, KY, that was set up to memorialize occupational fatalities from the human perspective — the families. It consists of mostly mothers and wives. From all over the U.S., they send pictures of their deceased for posting on the USMWF web site (www.usmwf.org), with a sentence or two on how they met their fate. A lot of them were from falls, and most of the falls were preventable. When visiting the website, the sense of grief is almost palpable.
Think about it. These are mothers sending pictures of their kids, who were killed on the job, to a website for all the world to look at. The ironic thing is that a lot of the cryptic sidebar comments with the pictures reveal how much denial there remains about what caused the fatality, mostly on the part of the employers. If finger pointing was an art form, some of these schlubs would be Picasso.
Who Is Responsible for Safety?
There are some lessons to be learned here. The typical management safety mantra we're accustomed to hearing about fall protection is basically a twin-track recording. One side is the techno-mechanical beat about training, equipment, hardware and mathematics, falling distances, physics and metallurgy. The other track is the familiar management sing-a-long: "I don't want to be the one to have to tell your family…" so buckle up.
There is a lot of open water between these two tracks. Typically, an employee will only push safety to the perceived limits that the boss supports, but not much further. If there is no clear means or direction to set up a fall protection system, then odds are the employee will go without. This is where the "L" word becomes apparent to the success of a program: Leadership.
In other words, the responsibility for accident prevention, safety training and enforcing the rules on the jobsite rests squarely on management. It's relatively easy to make safety rules. The hard part is to figure out how to apply the rule in the field. It's not always so easy. Where do you go when there is in fact "nothing to tie off to?" Do you drill a hole in the customer's roof, or shoot a stud into their masonry?
Admittedly, this is not a simple problem to solve. But there are ways to work it out. One of the most effective techniques involves planning. Construction time always seems to be measured in micro-seconds, but there needs to be planning — also known as a Job Hazard Analysis — that basically says "we know we are going to need fall protection up there" and then figures out how to achieve it. Fortunately, figuring it out does not have to be a solo performance.
OSHA has actually done a lot of the heavy lifting in trying to improve the odds for the folks on the jobsite, notably with its landmark SENRAC agreement several years ago. This effort pushed architects and steel fabricators to build fall protection attachments into the constructability sequence, thereby making fall protection for lead trade ironworkers a lot easier and safer. This effort to "design in" fall protection needs to be broadened throughout other industries.
Advances in Fall Protection
Fall protection hardware vendors and manufacturers have also been inventing new techniques and methods for preventing falls for a long time now. They have built up an impressive inventory of protective devices, as well as alternate access methods. Anyone who has attended a trade show or industry expo has seen the hardware; they come up with some amazing technology. You're in the construction business, the vendors are in the business to help you work safely. If you can't figure it out, make their phones ring. Odds are, you're not the first person to do this job. For example, there are telescoping aerial lifts on the market that reach 180 ft. or more.
The new generation of PFA harnesses are emblematic of the advancements in technology. They're concealed inside of vests and high-visibility jackets, so they're basically "slip on and clip on" easy to use. Workers will usually take better care of an actual garment than they will a pile of nylon straps, so it works on several levels. Hardware includes retractable reels, deceleration lanyards, reusable anchorages, rope grabs, etc. There is also a selection of residential roof anchorage brackets, thus removing a big portion of contractors' excuses for going without the harnesses.
But figuring out the rigging and hardware and brackets is where the challenge usually lies. There are industry segments that specialize in this. Smart managers will use the SMEs, and yes, it's probably going to cost you a few bucks more to do it the right way. This should have been anticipated in the planning stage. In comparison with the cost of failure, providing fall protection is the cheapest insurance policy you can buy. If you're still not convinced, go check with www.usmwf.org.
John J. Meola, CSP, ARM is a safety and risk management consultant in Richmond, VA. He can be reached at riskengineer1@gmail.com.