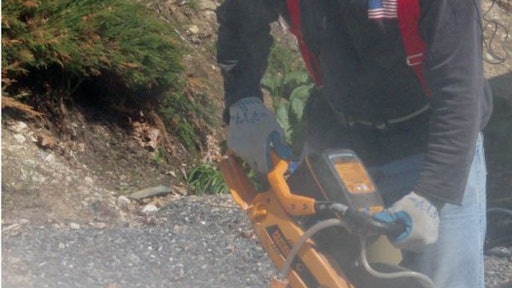 While the dust generated on a jobsite may seem innocuous, it can be surprisingly dangerous and potentially deadly, depending on its makeup. Fine dust particles emitted by certain materials or processes can collect in the lungs and over time result in life-altering and even life-threatening health conditions.
Consider asbestos, for example. Once a common building material, it was banned in the '70s after it was linked to a form of cancer known as mesothelioma. Still present in many older buildings, asbestos is cited as a likely cause for an unusually high death rate in emergency service workers from cancer following the attacks on the World Trade Center on 9/11. Individuals working on older structures remain at risk of exposure, necessitating strict controls on sites where it may be found.
Drilling, cutting, crushing or grinding concrete and related products (stone, brick, etc.) poses a similar risk by producing crystalline silica, a fine dust that can collect in the lungs and produce a host of health issues, including cancer, silicosis, chronic obstructive pulmonary disease (COPD) and kidney disease. OSHA estimates about 2.3 million workers are exposed to respirable crystalline silica in the workplace, including 2 million construction workers.
Given the high incidence of exposure, OSHA issued a rule in early 2016 further tightening the permissible exposure limit. Originally scheduled to go into effect this month, enforcement will now begin on September 23. (See a Special Report on this topic at ForConstructionPros.com/20862500.)
While industry groups argue against the necessity and even practicality of the stricter limit, it's clear more can and should be done to protect workers on certain jobsites — particularly those where even the current limit is poorly addressed or largely ignored. A recent project site I passed through is a stark example: A worker was using a large walk-behind saw to cut chunks of the damaged concrete surface of a bridge for removal and replacement. Dust from the sawing engulfed the operator and nearby workers, and even periodically obscured the vision of motorists navigating through cones directly adjacent to the work area. Outside of high-vis vests, no personal protective equipment (PPE) or dust mitigation was in use. (In fact, the saw operator was in shorts and tennis shoes!)
This is an extreme case, but it's not the first time I've witnessed concrete cutting without proper PPE, and I'm sure others could share similar tales. Even with plentiful resources available on the rules and tools/techniques to mitigate crystalline silica exposure, workers are still being placed at unacceptable risk. Theirs may one day be the heaviest price to pay, along with their families. Yet, others will pay a price as the industry faces skyrocketing insurance rates and ever stricter regulation as the statistics continue to mount up.
I've seen the effects of dust-related COPD firsthand, and it's hard enough to watch let alone experience. I implore anyone who's been lax in compliance on their jobsites to find out what's required, provide and make sure workers use the appropriate PPE and apply dust control as needed. For those who already do so, I hope you'll encourage and help educate your peers to take the required steps — for the sake of the workers and for all those involved.