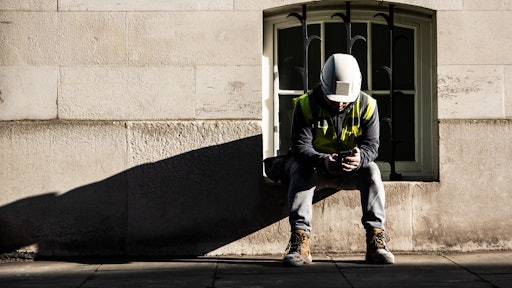 ©Jamie – stock.adobe.com
Every year, we recognize Mental Health Month in May, followed by Construction Safety Week, and each June is recognized as National Safety Month. And while mental health and safety should always be a priority, these months give us a chance to step back and reflect on the important role that safety plays at the company and individual level. I've been a part of the construction industry for most of my life, and one of the most encouraging shifts I've seen is the increasing frequency of conversations about mental health.
It has long been known that construction is one of the most dangerous occupations to physical health, and as such, safety has always been a priority. But more and more, folks are starting to realize that physical health is inherently tied to mental health. A "safety culture" goes beyond enforcing job site safety protocols and works to improve overall well-being, by focusing on mental health and suicide awareness as part of safety. You really can't have one without the other.
Mental health should be a priority in all industries, but construction is challenging work and ranks second highest in suicide rates among major industries. According to a study on mental health and well-being in the construction industry launched by the American Psychiatric Association's Center for Workplace Mental Health, this is due to a multitude of factors including long hours, high physical demands and risks, tight deadlines and margins, a male-dominated industry where toughness and strength are valued, and seeking help can be seen as a weakness.
These pressures have only increased during the pandemic where construction was deemed an essential service, and teams had to navigate keeping jobsites open amid lockdown. The industry continues to face a persistent labor shortage which is only putting increased pressure on the folks who are on the jobsite. That's why it's more important than ever to support these essential workers, deemed too critical to stop working even in the face of crises.
Over the years, I've spoken about this topic with numerous construction leaders across the globe. Here are a few important ways we, as leaders, can help their employees and teams feel connected, supported and safe.
1. Start the conversation from the top down.
Leadership has the power to shift the conversation, and most importantly, start the conversation. The first step in industries that are less familiar with these types of conversations is to help move the conversation from the shadows to the forefront.
In fact, according to a study on mental health and well being in the construction industry launched by the American Psychiatric Association's Center for Workplace Mental Health, the No. 1 reason those who need help do not seek it is because of shame and stigma (78%) and fear of judgment by peers (77%). Leaders have the power to destigmatize the conversation by speaking openly and often about mental health.
What's more, "fear of negative job consequences" (55%) was the third most cited reason for not seeking help. Employees need to know their jobs are safe even if they ask for help.
2. Walk the talk.
As leaders, it's equally important that we model healthy behaviors so team members feel they can prioritize self-care and set boundaries.
Prioritize your mental health—for example, by taking a vacation or going for an afternoon walk—and share this with your team so they know they have permission to do the same. Or consider implementing programs, such as a departmental "Mental Health Days," that give teams a chance to recharge.
3. Connect with your teams.
The work environment of today looks much different than it did a few years ago, with many folks working remote. This can make it difficult to recognize when someone might need extra support because we're often not seeing our colleagues every day. We need to create cultures where teams feel connected to you, as their leader, and their team—regardless of their location.
In fact, a Harvard Business Review (HBR) study with Qualtrics and SAP found that nearly 40% of global employees said that no one at their company had asked them if they were doing okay. HBR suggests going beyond a simple "How are you?" and instead asking questions to understand how you can best support them on an individual level. Make it a point to check in with each of your direct reports and team members on a regular basis. Always encourage open dialogue, create space for your team to share their thoughts, and listen to any concerns they may have.
4. Create psychologically safe work environments.
A big part of this is having open conversations and encouraging vulnerability in the workplace. But, creating a psychologically safe environment requires far more. According to McKinsey, and many other leading sources, we must lead with empathy, encourage a culture of feedback and continual improvement, and create a sense of belonging and inclusivity. This environment can serve as the foundation that helps your teams feel comfortable speaking up when they need help.
In Amy Edmondson's TEDx Talk, "Building a Psychologically Safe Workplace," she shares how speaking up with concerns, questions, ideas, and mistakes can help drive safer work environments and lead to innovation. She also offers helpful tips on how to build psychologically safe work environments, such as creating a culture of learning, acknowledging your own fallibility, and asking questions.
Simon Sinek has also spoken extensively on why building cultures where employees feel safe and trust one another is critical for business and ensuring teams thrive in the workplace.
Kabri Lehrman-Schmid from Hensel Phelps, also shared tips on creating psychological safety on the jobsite such as challenging the status quo, challenging biases toward marginalized groups, implementing suicide prevention strategies, and more.
5. Educate your employees about mental health.
Provide resources to your employees—especially managers and leaders—on how to recognize the signs and symptoms of someone in need of support so they can offer help.
One of our customers, Balfour Beatty, is one company leading the charge in expanding safety culture to address mental health and the rising rates of suicide in our industry. They recently launched a Suicide Prevention Awareness campaign which includes a report that addresses the nature of the issue and how to change perceptions of mental health. The campaign also features a "Need to Talk" program that trains project management staff to look for mental distress signs and how to conduct personal check-ins and intentional listening sessions.
Some great educational resources are available as this conversation is becoming more prevalent. The Associated General Contractors of American (AGC) recently hosted a webinar on mental health and suicide prevention in construciton.
6. Offer mental health resources to your employees for free.
Another reason employees do not seek help is because they don't know where to go. Leaders can remove this obstacle by making resources easily accessible. These can include resources like Modern Health, offering mental health days, creating peer support groups and more. The Construction Industry Alliance for Suicide Prevention, a non-profit organization that aims to raise awareness about suicide prevention, also provides several free resources around training, building awareness, and where to turn to for help.
Building a culture of mental health in the construction industry isn't something that will be solved overnight. But, we can start taking steps in the right direction that can have a big impact on both today's workforce and the future of the industry. And, step one is having the conversation.