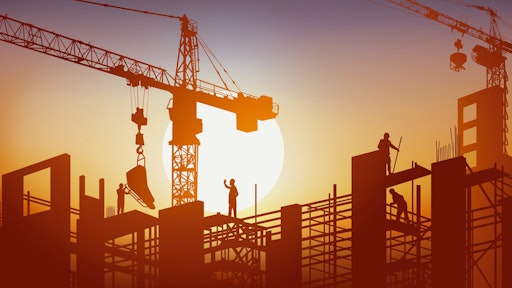 ©pict rider – stock.adobe.com
Construction sites rarely see ideal temperatures, and the presence of heat and humidity can quickly turn a safe worksite dangerous if preventative safety measures are not in place. Notably, the Occupational Safety and Health Administration (OSHA) reports that 50% to 70% of most outdoor fatalities occur in the first few days of working in warm or hot environments.
Surviving heat-related illnesses (HRIs) is preventable and begins with evaluating heat stress risks to workers. Construction leaders need to develop and implement plans to mitigate risks and create safe working environments as temperatures rise.
Six ways industry leaders can protect workers include:
1. Know the Regulations and Resources
While OSHA has no standard specifically addressing the hazard of heat, the department recently launched a National Emphasis Program to protect workers from heat illness and injuries. As part of this program, OSHA will conduct heat-related workplace inspections periodically before workers suffer preventable injuries, illnesses, or fatalities.
Construction leaders are encouraged to review OSHA's criteria for a recommended standard and consult with safety and health professionals to ensure compliance. In addition, businesses struggling to determine the appropriate safety plan based on their geographic location, workload intensity, workforce demographics, and even individualized sectors can use OSHA's no-cost and confidential on-site consultation program. Through this program, business leaders are contacted by consultants from universities or state agencies who will work with employers to identify workplace hazards and OSHA compliance standards and assist in establishing and improving safety and health programs on job sites.
Employers who review industry standards regularly and use the available resources are a step closer to protecting their employees from HRIs.
2. Assess the Risk
Preventing HRIs in the workplace begins with environmental monitoring. Employers can use the Wet Bulb Global Temperature Index (WBGT) as a guide to managing workload in direct sunlight. Small businesses without access to WBGT measurement devices may choose to calculate the heat index using the OSHA-NIOSH heat safety app or the NOAA heat index chart. The various tools the industry provides can become efficient and practical resources for heat safety.
Employers can also screen workers for heat intolerance. For example, identify previous HRIs, low fitness, and other factors that can reduce a worker's ability to tolerate physical activity in hot environments. Further, employers can proactively prevent workplace HRIs by encouraging workers to consult with their health care provider about medications or underlying medical conditions that may affect their ability to tolerate heat and physical activity.
A culture of heat safety begins with education on how to prevent and recognize HRIs and their potential risks.
3. Limit Exposure
Leaders should consider modifying work/rest schedules, shortening work periods as temperatures, humidity, and sunshine increase. During these breaks, leaders should encourage workers to cool down by providing cool, shaded, or air-conditioned areas for rest and recovery, such as job site trailers. For example, body cooling stations with buckets of ice can be placed around the job site for workers to immerse their hands and forearms to allow the body to cool down. Employers can also ask workers to wear light, breathable and loose-fitting clothing. Another way to limit heat exposure is to schedule routine maintenance work for cooler times of the year and plan daily work during cooler parts of the day to avoid peak temperatures.
The company may add extra workers to the crew to reduce heat exposure to each crew member, which allows for the construction pace to continue while crewmembers take a break.
4. Acclimate
Acclimatization can be gained in about fourteen days and lost in just a few days. Therefore, business leaders and safety professionals should develop a plan to acclimatize workers to outside conditions. This plan should also account for any new and unacclimatized worker's workload at any time of year. In addition, a well-developed plan should outline how to supervise new employees during this time and how to determine if they are fully acclimatized. It is also important to have a plan to ease workers returning from extended absence into hot conditions. Acclimatization requires careful planning and flexibility based on the variation of each sector.
5. Encourage Hydration
Leaders should lead by example and find ways to encourage hydration. Supervisors should estimate how much water will be needed, decide who will obtain and check on water supplies, and remind workers to take water breaks after being in the heat for two hours. For example, at Skanska, we have provided electrolyte ice pops on job sites to replenish the vitamins lost during the hot day. This creative treat has kept workers cool and hydrated while enhancing the safety culture. Providing electrolyte-replenishing beverages and water near every worker and providing adequate, convenient toilet facilities promotes hydration while demonstrating care, a critical factor in heat safety.
6. Provide Cooling PPE
Lastly, employees can consider using evaporative bandanas, towels and pop-up canopies. These devices can be soaked in cooling water for a couple of minutes and handed to workers at cooling stations throughout the day, which provides one to four hours of cooling. Other equipment to have in case of an emergency is ice packs so a worker can be cooled down fast.
The dangers of construction, including HRIs, can be preventable when leaders focus on injury/illness prevention. Considering the above, construction leaders can take tangible strides to protect their teams from rising temperatures.