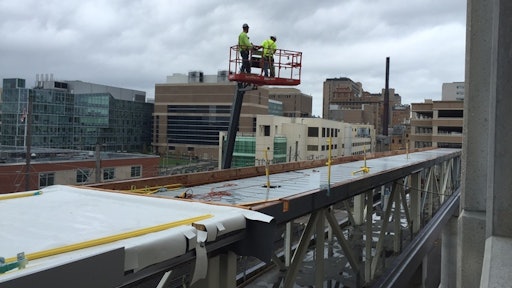 Bade Roofing Company reported zero injuries on a challenging project that required its workers to scale a 1,200-ft.-long, 13-ft.-wide elevated pedestrian skywalk through one of the busiest medical campuses in St. Louis, MO.
The East-West Connector project on the BJC HealthCare/Washington University Medical Center campus was completed in March 2017, following 8.5 months of construction. The massive concrete, glass and steel structure reaches heights of 40 ft. above street level and travels nearly a quarter of a mile to connect four parking garages and various buildings throughout the busy campus.
Bade crews installed a tapered roof system - a Firestone induction-welded white TPO membrane with R20 insulation and a 1/2-in. cover board - over the entire length of the pedestrian bridge. The roofing project was broken into seven areas and each area had to be installed separately and not in order. This meant Bade's workers had to mobilize and demobilize frequently and splice newly installed roof areas to ones installed sometimes months before.
A crew of three to four workers took three months to complete the complex roofing project. In a single, 15-hour day, two workers roofed a 120-ft. span of the bridge. Given the logistics and safety concerns, this was an amazing feat, said Bade Roofing CEO David Bade.
"Work was done around heavy traffic areas and functioning parking garages. Certain work areas had to be shut down and gated off, but other areas could only be worked on during a short time frame when traffic was light," said Bade.
"There was a section of the connector that crossed Taylor Ave that was particularly difficult from a coordination stand point. This strip of road is the main thoroughfare on the campus, and shut down of the entire road was a nearly impossible request," he points out. "However, during one weekend, the road was allowed to be shut down. Due to the fact that five different trades all needed to complete their work over the road in this two-day time slot, crowding in this relatively small area was definitely an issue. The roof had to be installed before other trades could do their portion of work, so our two-day time slot turned into one day."
Bade crews utilized a lifeline stanchion system, installed every 30 ft. along the top of the skywalk. The stanchions had to be clamped to the structural I-beams, which required cutting through 18-gauge metal decking to get to them.
"Safety on the project had to be handled much like a road bridge," said Bade. "It made roofing very slow and tedious, but safety was a major concern and the project was completed with no incidents."