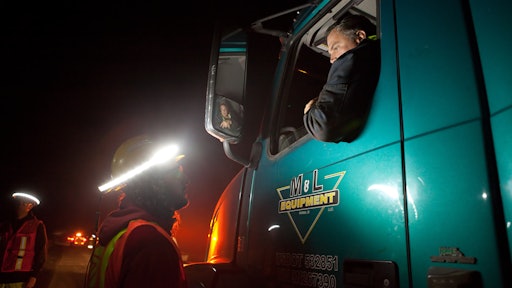 Granite Construction was awarded the resurfacing and repaving project on I-90 a few miles east of Snoqualmie Pass. This stretch of road endures some of the harshest wear conditions of any Washington state roadway due to extreme temperature fluctuations and heavy truck traffic. A unique part of this project is that the east- and west-bound lanes were resurfaced using different paving techniques, so WSDOT could study conditions over the next few years and determine the best system to use going forward. 
The project involves nighttime to early morning open road cracking, grinding and repaving of a major interstate highway at the top of a mountain pass. Heavy equipment moves slowly down the single closed lane, while dump trucks cycle back and forth from the asphalt plant. The trucks enter the lane in-between cones directly from the moving lane of traffic.
Using Your Head to Light the Way
Light stands are used on the main paving machine and there are light towers at the very beginning of the lane closure. The highway itself has no lighting and there is no ambient lighting, making this an extremely dark and dangerous environment and requiring the best and brightest hard hat light solutions. This jobsite presents a real need for workers to be able to both see and be seen while they work around moving equipment, with the motoring public moving past at 60 mph just a few feet away.
Granite was looking for the best hard hat lights for its workers. After the first field trial of The Halo Light, Illumagear was invited back for a second. Granite placed an order for the units based on the results of the field tests. 
Almost every job type used The Halo Light at some time, including personnel directing and running the dump trucks, density checkers, QC inspectors and the prep cleaning crew. Different workers used different light modes depending on their specific tasks. The equipment director used the hard hat light Task and Halo modes, and the density checker most often used HI-Alert, while the QC and prep cleaning crews primarily used Task mode.
Using The Halo Light, workers were able to see their task areas better and said they felt safer by being more visible to both the heavy equipment operators and civilian traffic. Granite has since and has since equipped multiple jobsites with the product.
Companies in this article