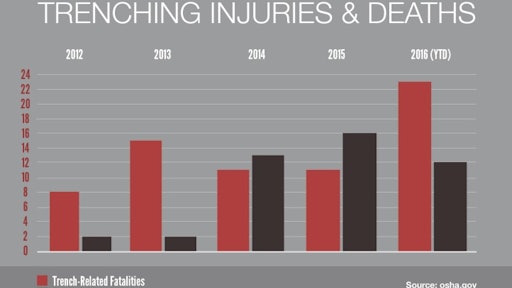 According to the U.S. Occupational Safety & Health Administration (OSHA), 23 workers have been killed and 12 other reported injuries in trench collapses in 2016.
[SAFETY VIDEO] Excavations in Construction/Trenching

"Trench deaths have more than doubled nationwide since last year — an alarming and unacceptable trend that must be halted," said Dr. David Michaels, assistant secretary of labor for OSHA. "There is no excuse. These fatalities are completely preventable by complying with OSHA standards that every construction contractor should know."
Document: Trench Safety Toolbox Talk
Trench collapses are rarely survivable. One cubic yard of soil can weigh up to 3,000 pounds — the weight of a small automobile — giving a worker in a trench little chance of survival when walls of soil collapse.
OSHA has a national emphasis program on trenching and excavations. Trenching standards require protective systems on trenches deeper than five feet, and soil and other materials kept at least two feet from the edge of trench.
Trenching and Excavation Safety Fact Sheet