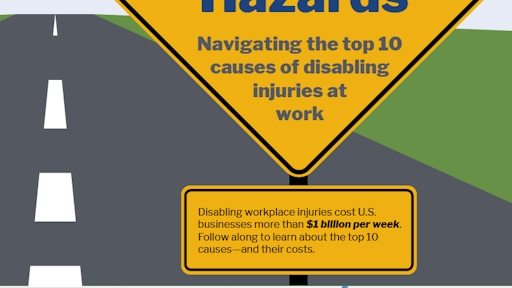 Disabling workplace injuries cost U.S. businesses more than $1 billion per week. Knowledge is power, and understanding risk is the first step to protecting your business. The 2018 Liberty Mutual Workplace Safety Index, and the results bring both good news and bad news for U.S. businesses.
Overexertion is the leading cause of workplace injury, comprising more than a fifth of all injuries, but falls account for a growing number of losses. In fact, of the top 10 most common causes of disabling injuries, falls to same level and falls to lower levels rank second and third, respectively.
Download the infographic here and read the Top 10 causes of workplace injuries - and their costs - below. 
Overexertion (with outside source) -- Injuries related to lifting, pushing, pulling, holding, carrying or throwing cost companies $13.7B annually.
Falls (same level) -- Falls on the same level, such as slipping on a wet floor cost $11.2B annually.
Falls (lower level) -- Falls to a lower level, such as from a ladder or platform, cost businesses $5.9B annually.
Struck by Object/Equipment -- Injuries caused by accidents like getting hurt from an object falling from above cost $5.3B annually.
Other Exertions/Bodily Reactions -- Injuries from crawling, bending, reaching, twisting, climbing, kneeling or walking fall into this category. Businesses pay a total of $4.2B annually from these type of accidents. 
Roadway Incidents Involving Vehicles -- Incidents involving vehicles, such as an accident while driving on the highway will cost companies $3.2B annually. 
Slips or Trips (without falling) -- Injuries resulting from tripping over an object or resisting a fall cost $2.3B annually. 
Caught In/Compressed By Equipment -- Getting caught or compressed by equipment, such as gears or rollers, cost 

U.S. 

business owners $2.1B annually. 
Struck Against an Object/Equipment -- Accidents such as walking into an open drawer or door actually cost companies $2B a year. 
Repetitive Motion -- Repeating motions or micro-tasks on an assembly line lead to $1.5M in injury costs. 
Serious workplace injuries cost businesses more than $58 billion per year — a nearly 3 percent increase from 2017. Know the injuries that cause the most damage to your employees and your business and educate daily on their risks.