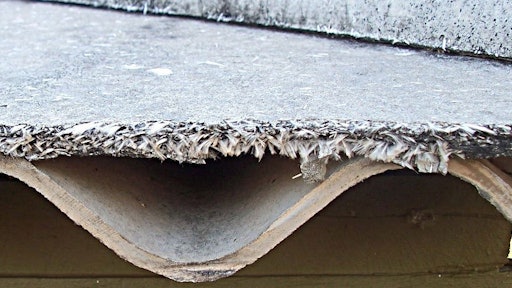 One of the most dangerous construction-related carcinogens is now allowed back into U.S. manufacturing under a new rule by the Environmental Protection Agency (EPA). On June 1, EPA authorized a "SNUR" (Significant New Use Rule) which maintains existing bans on asbestos uses, but allows new products containing asbestos to be created on a case-by-case basis. Public comment on the proposed ruling ends August 10, 2018.
In May, the EPA released a report detailing its new framework for evaluating the risk of its top prioritized substances. The report states that the agency will no longer consider the effect or presence of substances in the air, ground, or water in its risk assessments.
Newsweek.com reports the EPA said the proposal would affect a wide range of uses of asbestos related to manufacturing that the EPA has identified as "no longer ongoing."
Such "new" uses would include "adhesive, sealants and roof and non-roof coatings; arc chutes; beater-add gaskets; extruded sealant tape and other tape; filler for acetylene cylinders; high-grade electrical paper; millboard; missile liner; pipeline wrap; reinforced plastics; roofing felt; separators in fuel cells and batteries; vinyl-asbestos floor type and any other building material (other than cement,)" according to the EPA.
Asbestos-related deaths now total nearly 40,000 annually, with lung cancer and mesothelioma being the most common illnesses in association with the toxin.
Newsweek suggests President Donald Trump's personal stance on asbestos may have influenced his administration's decision.
"I believe that the movement against asbestos was led by the mob, because it was often mob-related companies that would do the asbestos removal," Trump wrote in his 1997 book, The Art of the Comeback. "Great pressure was put on politicians, and as usual, the politicians relented." 
The Asbestos Disease Awareness Organization expressed concerns over Trump's "support of the asbestos industry."
"Asbestos imports are on the rise, and our president has no plans to stop them," said Linda Reinstein, president and co-founder of ADAO, whose husband died in 2006 after developing mesothelioma, in a statement published online.
She noted that according to the U.S. International Trade Commission the chemical industry had spent $500,000 importing nearly 260 tons of asbestos from Russia and Brazil from January to April this year – a number that was four times greater than that brought in during the same period in 2017
Chlorine-based plastics are commonly found in building-product materials and that "virtually all" asbestos in the U.S. is used in the industrial process to make chlorine. This includes PVC and vinyl plastics, which is largely found in the creation of pipes, tiles, flooring, adhesives, paints, and roofing products.
As EPA eases regulations against using harmful toxins like asbestos, the responsibility to protect peoples' health falls to local and state governments, and to the companies and consumers themselves.
(more on asbestos coming to new construction products . . . )