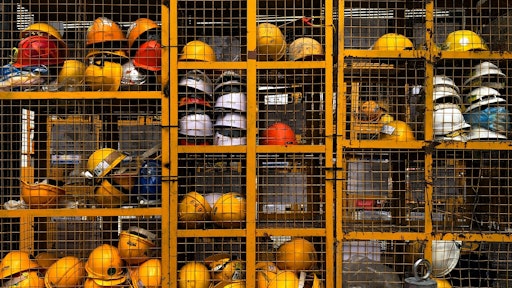 Pop & Zebra on Unsplash
Wearing personal protective equipment (PPE) on the jobsite is undoubtedly vital to keeping construction workers safe. Not only is it important to keep employees healthy, companies must stay in compliance with Occupational Safety and Health Administration (OSHA) laws. The issue took on renewed importance with OSHA increasing fines at the start of 2020.
So how can construction and safety managers not only ensure employees wear the required PPE, but that they have the most up-to-date gear to maintain compliance?
John Meola, CSP, ARM, provides tips for that all-important employee buy-in of PPE, as well as insight on the latest equipment available. Meola is safety management for the Timmons Group, Richmond, VA, has more than 27 years' experience in safety engineering and served as past president of the American Society of Safety Engineers from 1993 to 2011.
Put Your Name on It
Of the dozens of types of PPE — from head, ear, eye and respiratory protection to safety belts, lanyards and fall protection — the hard hat is the most common and most important on the jobsite.
Most employees comply with the mandate to wear hard hats on the site, but what Meola often sees is workers wearing out-of-date gear.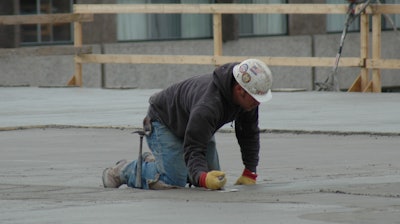 "I guarantee you, if you go out on any site, you're going to see people out there who say, 'Yeah, I got this hat when I got out of the Navy, and I've had it for like 18 years,'" he says. But a hard hat's lifespan is only roughly two years.
One way to convince employees to wear a new hard hat is to incorporate branding, says Meola, to show that safety is a top priority to the company. All kinds of gear can be personalized, including hard hats, safety glasses, gloves and more.
"It's a good starting point for demonstrating company culture," Meola says. "Branding is really critical in this regard. For example, your hard hat should have your company name on it. Your high-visibility vest – we always recommend getting them silk screened, getting them printed."
Many PPE manufacturers offer personalization. For those who are buying large quantities of PPE with no option of laser or screen printing at the vendor, Meola recommends sending it out locally for branding.
"We always recommend having them printed with the company name or some other identifiers. Some companies have a safety logo or a safety mantra," he says. "You can put the person's name on it, but we always recommend taking it to the next step. It shows that you've got skin in the game with a more advanced purchasing and logistics arrangement."
Personalizing PPE can go a long way toward bolstering a company's safety mission. "That sends an enormous banner of a message out to the world to say, 'Listen, this is our company property, we're proud of it, we want you to use it, we buy good grade stuff,'" he says.
Advanced Equipment Available
Meola suggests staying current with PPE trends and technology, because newer, better-fitting equipment is frequently hitting the market.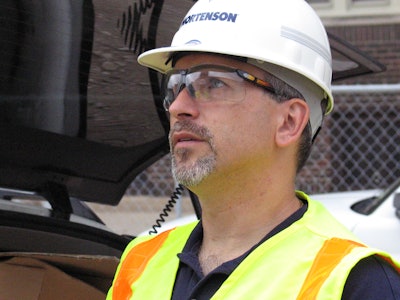 "PPE in our business is evolving a lot faster than most people recognize," he says. "For example, there are exoskeletons, robotics, material science, engineered fabrics, composite hard hats – which are much lighter and arguably stronger – wearables, nanotechnology. There's a lot of technology being aimed at this basic level of PPE."
It's important to know what improvements are available. "Most of us are buying the same safety glasses, the same hard hats, the same gloves that we bought for a generation," Meola says. "Well, I can tell you, the industry has moved on. There are websites, there's magazines, there's Equipment Today, for example. I see a lot of advertisers and vendors illustrating best practices, so at least be tied into something current that gives periodic updates, new equipment available, new product information."
OSHA

Guidelines, Assessment and Training

Jobsite supervisors not only need to identify and reduce risks, they need to log the site's assessment and training efforts.

OSHA uses the Hierarchy of Controls, which guides managers through identifying the risks, controls and plans to overcome those dangers. The bottom of the pyramid is PPE, followed by Administrative Controls, Engineering Controls, Substitution and Elimination:
Elimination: Remove the hazard
Substitution: Replace the hazard
Engineering Controls: Isolate people from the hazard
Administrative Controls: Change the way people work
PPE: Protect the worker
"Of course, we don't all have the luxury of hiring full-time safety guys," Meola says. "It falls to the job superintendent, the project manager. Hazard recognition comes first and then that's followed by the next keyword, which is hazard identification – recognizing a bad step, or a hole in the ground or a hole through a roof even for a more Draconian example… [and] at least marking it with warning signage, decals, pinch points, all of which are right out of the playbook of hazard identification."
OSHA requires a log of safety protocols, as well, to evaluate the workplace.
"It's not enough just to say, 'Well, everyone's going to wear eye protection, hard hat, etc.' OSHA wants to see it on paper, and this is a nominal regulation," says Meola. "If you drill down into their rubric, it actually says an assessment will be performed to determine what is the hazard, what are we going to protect from, what is the best type [of PPE]?"
There are electronic assessment forms available on the OSHA PPE website. "They have a PPE assessment form and it's a fillable form," Meola points out. "According to OSHA, you need to do that for every article of PPE or every hazard that you identify."
OSHA also requires confirmation that employees are being properly trained on how to use PPE. "During the training, OSHA would look to see if there were some of those factors and were they addressed during your training?"
For example, make sure employees know when and how to properly use ear protection such as earplugs. "If you read the bag that the [earplugs] come in, it says how to properly reach over your head, lift your ear lobe, insert the plug, make sure it's seated, let it expand and keep your hands clean, so you're not causing ear problems," Meola points out.
There should be documentation of the employee training, as well.
"Every one of these little items has a 'food chain' associated with it, where a line in the log book or a document in a safety meeting file can save you a lot of headaches if an inspector comes out," Meola says. "It's not just about compliance. You're actually doing the employee a favor by educating them and equipping them with the right material, the right set of instructions."
Constant Improvement
Meola cautions that OSHA guidelines are the minimum standard that should be applied.
"The OSHA regulations are a minimum in all categories of safety, even including the PPE category," he says. "It always implies we can do more; we can do better. A lot of us have in our corporate safety mantra, 'Our most important asset in our company is our employees.' And then we say, 'We will comply with OSHA.'"
But site managers can go beyond that. "At the end of the day, we need to say, 'Look, we can do better; we can exceed,'" Meola says.
Not only do companies need to provide up-to-date PPE to employees, they need to ensure workers are wearing it. Ways to increase employee buy-in include creative branding and training. It's also important that each piece of PPE and training is logged per OSHA standards to keep jobsites safe and compliant.