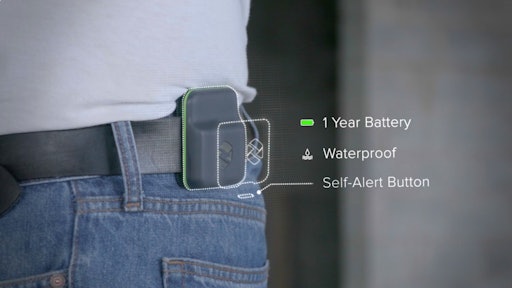 The Travelers Companies, Inc. announced a collaboration with Gilbane, one of the country's largest contractors, and Triax Technologies, a leader in Internet of Things (IoT) construction technology, to explore the potential safety benefits of wearable devices.

"Work-related injuries remain a significant source of exposure for contractors, and it's a priority for us to find new ways to help them manage risk and keep workers out of harm's way," said Rick Keegan, President of Construction at Travelers. "This project will help us gain valuable data-driven insight, and we look forward to working with Gilbane and Triax to identify the best uses for wearable technology to help improve outcomes and employee safety." 
Travelers will review data collected from a variety of Triax's Spot-r IoT devices, including those being used at a 60,000-square-foot, six-floor Gilbane construction site in New York City over 20 months. More than 130 employees will use the Spot-r Clip, an unobtrusive device worn on the worker's waist belt. The Spot-r Clip enables faster response times to possible injuries by automatically detecting worker falls and providing supervisors with real-time notification of worker location and other safety incident details. The IoT device also includes a feature that allows workers to easily report hazards or incidents. On-site machinery will be fitted with the Spot-r EquipTag, which monitors equipment location and usage. Additionally, the site will have Spot-r EvacTags, which allow managers to trigger high-decibel, highly visible emergency alarms to workers via a dashboard.
"Travelers understands our industry and helps us to manage the unique set of risks our employees face on the work site," said Don Naber, Senior Vice President, Director of Risk Management at Gilbane. "We are excited to collaborate with Travelers and Triax to determine how wearable technology can keep jobs on track and, most importantly, keep workers safe."
"Safety is one of the key statistics the construction industry measures, yet there hasn't been an easy way to quantify safety behaviors on-site, until now," said Pete Schermerhorn, President and CEO at Triax Technologies. "With real-time data and notifications, and visibility into what is actually happening on the site, wearable technology has the potential to transform safety and risk management practices in one of the most dangerous professions. It's exciting to see how our technology is being used by innovative companies like Gilbane and Travelers to improve safety, and we look forward to seeing how their practices continue to evolve."
This collaboration is the latest example of Travelers' commitment to finding innovative ways to help contractors manage employee safety risks, promote a culture of safety and support business continuity. In 2016, Travelers created the Early Severity Predictor, an industry-first predictive model that identifies the likelihood of an injured employee developing chronic pain so that he or she can reduce the need for opioids or other painkillers during recovery. The following year, the company launched ZoneCheck, a first-of-its-kind online tool to help contractors identify areas surrounding a job site that could be affected by vibrations from heavy equipment. Most recently, the company introduced a digital self-service tool, MyTravelers for Injured Employees, which streamlines the workers compensation claim process.