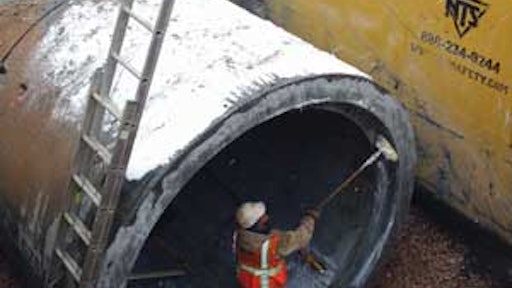 James McRay
The Central Weber (Utah) Sewer Improvement District recently awarded an important underground utility project to Whitaker Construction Company of Brigham City, Utah.  Whitaker is in the process of installing a new treated water discharge line from the treatment plant to the Weber River.
Whitaker is installing 4,500 linear feet of 108 inch RCT pipe with an outside diameter (O.D.) of 11 feet, with an average depth of 18-20 feet deep.  The pipe is designed with extra thick walls as to be "anti-floatation" in the very high water table in the relatively agricultural, rural area.
There are always numerous challenges when a contractor installs large diameter pipe.  A pipeline like a treated water outfall is typically installed using trench shields to protect workers from trench cave-ins.  But, standard 8 or 10 foot tall trench shields do not provide enough pipe clearance to install a mammoth 11 ft. O.D. reinforced concrete pipe.
Whitaker needed a custom shoring solution for this deep and wide pipeline.
National Trench Safety and Efficiency Production Provides Shoring Solution
Whitaker's first call for shoring assistance was to Tom Hartman at National Trench Safety in Freemont, California.  Hartman had worked with Whitaker on a previous project when he was based in Salt Lake City.
"Pipe clearance really was the biggest problem to overcome," Hartman said about the project.  "Whitaker's first idea really was the best option; to use a spreader arch on a tall trench box."
Hartman called Mike West, Vice President of Engineering at Efficiency Production, Inc., Michigan, to discuss custom engineering a pin-in-place spreader arch and trench shield that would provide the necessary pipe clearance for Whitaker's project.
"Time was critical on this project, and I knew that Efficiency Production had experience with custom engineered trench shields and arches," said Hartman.  "I talked to Mike (West), and together we came up with the idea of a pin-in-place spreader arch that would pin to a 10 foot tall shield, and a second, 4 foot tall stacked box which would give us 140 inches of clearance rather than 112 inches we'd have with just the 10 foot box," explained Hartman.
"Whitaker ordered the shields around December 1st (2008), and wanted them on the jobsite before Christmas," Hartman continued.  "So Efficiency really turned the order around fast, and was able to get the shields and arch on site, on time."
Added West: "A pin-in-place spreader arch is nothing new.  What made this arch unique is that we designed it to pin over the collars of both trench shields, essentially locking the two shields together which made it easier to pull the box through the trench.  But the arch could also be used with just one trench shield."
The stacked trench shields are Efficiency Production HT-6 10x28 and 4x28 foot boxes with 16 foot spreaders on the front end, and hi-clearance arch on the back end.
The job required laying approximately 550 joints of the 8 foot long pipe.  Each stick of pipe weighs approximately 45,000 pounds, so a CAT 385 excavator is used to take the joints of pipe right off the truck and into the trench.  Whitaker is getting eight to 10 pieces of pipe installed a day.  They are also installing three cast-in-place structures, including two ground pipe to box culvert transition structures. 
The project started December 26, 2008 and is scheduled to be completed in August 2009.
Whitaker Construction Company is located in Brigham City, Utah, 60 miles north of Salt Lake City.  They have been in the underground utility business for 56 years and are still a family owned company.
Efficiency Production, Inc., "America's Trench Box Builder™," provides the widest selection of standard and custom trench shielding and shoring systems.  Efficiency's versatile products are designed specifically for safe and cost effective installation of utility systems and infrastructure improvements. All products are P.E. certified to meet OSHA and MIOSHA standards.
James McRay is the Marketing & Media Manager for Efficiency Production, Inc.  He can be reached at 800-552-8800;  jmcray@efficiencyproduction.com.