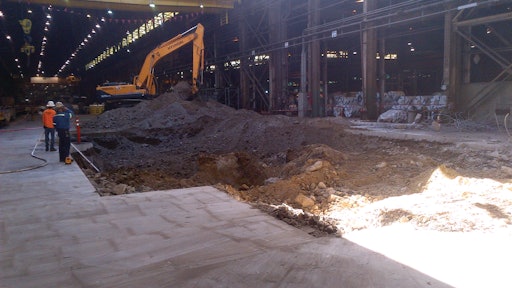 The challenge:
Excavate 30 ft. deep in the middle of a 70-year-old California Steel building
The players:
Kayser Construction
Trench Plate Rental Co.
The process:
California Steel (Cal Steel) is the West Coast's only remaining steel supplier and was in need of a new roller assembly that could pull cold-rolled steel into a perpetual web. In order to make room for the assembly, the company needed a 30-foot-deep excavation in the middle of its 70-year-old building. Fontana-based Kayser Construction took on that challenge.
Such an old building turned out to provide some challenges for the excavation. Kayser Construction began to encounter abandoned reinforcing walls below the floor. A Cal Steel employee who has been with the company for 45 years joined the contractor as a surveyor in order to provide the contractor with the location's historical background and an idea of what may be uncovered over the span of the project.
To overcome these unforeseen challenges while sticking to Cal Steel's stringent deadline, Kayser called on Trench Plate Rental Co. (TPR) for help. TPR developed a comprehensive and economic solution to meet Kayser's underground shoring and excavation necessities. TPR provided trench boxes, beams and 8-foot by 20-foot steel plates for the project. TPR also equipped Kayser with a shoring plan provided by a registered professional engineer.
The excavation began by cutting a 40-foot square hole through an 8-inch pad.  Next the contractor dug a pit 30 feet deep and sloped at the top. Two stackable Quik-Shor 10 by 20-foot by 6-inch trench boxes on 16-foot spreaders, modified with 16-foot beams located between the walls allowed the placement of plates on the ends of the boxes and helped deal with the surcharge loads and depth of excavation. The ends of the boxes were closed off with the 8-foot by 20-foot steel plates to ensure that extraneous soil would not flood inside, thus eliminating all excavation safety issues to protect workers while they built the required structures at the bottom of the pit.
The combined efforts of Kayser and TPR lead to project completion in just one month.