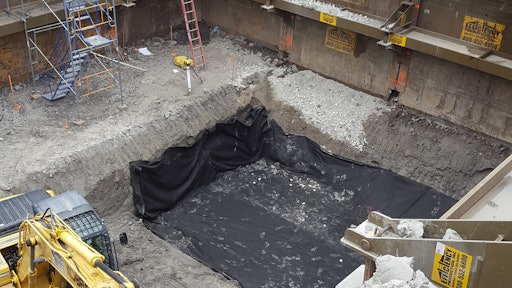 Underground Utility Contractor Midwest REM, based in Melrose Park, IL, recently completed casting-in-place a new stormwater pump station at O'Hare International Airport. The pump station is a sub-project of the multi-year, multi-million dollar O'Hare Modernization Program. 
The 7,500-gpm structure measures 60 ft. wide, 60 ft. long and 35 ft. tall. Adding to the challenging excavation project's parameters was the need for the behemoth pump station to be tucked in between an adjacent road and a nearby active runaway.
Yet, the limited space around the excavation site was not the biggest challenge facing the contractor. "The biggest challenge on this project was head space," said Walter Murphy, Midwest REM's project superintendent. "Working at one of the busiest airports in the world, the Federal Aviation Administration will only allow you to go so high with your equipment. Even though there are no overhead obstacles like power lines, the flying planes are the overhead obstacles."
Shoring options proved to be limited given the size needed to form and pour the jumbo concrete structure. Tight sheeting is usually the first shoring system considered for such a large excavation, but because of the strict project parameters, sheeting was not going to work.
"The height restriction meant we couldn't drive sheeting to shore the excavation, or we would need to drive the sheets at night," said Murphy. "But if we tried to open cut and slope, we'd have a hole as big as China." 
With tight sheeting ruled out, Murphy called local shoring equipment distributor Trench Plate Rental to inquire about using an Efficiency Production Inc.-manufactured Slide Rail Shoring System. The Slide Rail system is installed simultaneously as the trench or pit is excavated. This is done by sliding the panels into integrated rails on the posts, then pushing the panels and posts incrementally down to grade as the pit is dug. This process is commonly referred to as a "dig and push" system. 
Midwest REM rented enough Slide Rail equipment to install a 63' x 63' x 32' shoring system. "We chose Slide Rail because it was the only shoring system that would work with the limited space between runaways and roads and flying planes," said Murphy. "The system worked very well. I would definitely use Slide Rail again for a job with space limits like we had." 
Companies in this article