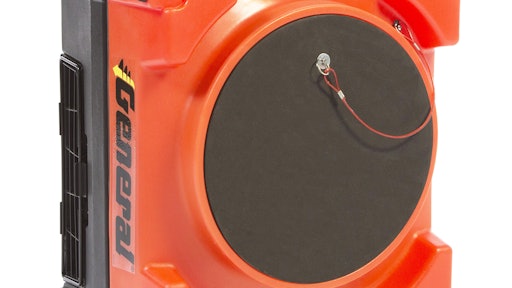 General Equipment Company introduces its new portable HEPA air filter – the AF500 AIR-SCRUB-R. Ideal for establishing a healthier environment in residential, commercial and industrial applications involving activities such as floor cleaning, grinding and polishing, plus drywall installation and repair, the AF500 is a highly compact, portable and efficient solution for providing air scrubbing/negative pressure air movement capabilities on virtually any non-hazardous jobsite.
The new AF500 features a unique two-stage design, with a 30-percent pre-filter and a 99.7-percent efficient HEPA secondary filter, requiring

fewer filters to be inventoried over competitive models.

Able to capture particles down to 0.3 microns, the unit can remove

particulates such as airborne allergens, soot particles and mold spores

stirred up by air movement during any type of project.
Replacing the standard

pre-

filter with an optional carbon/potassium permanganate filter, the air scrubber absorbs a wide range of VOCs, smoke, and other noxious contaminants and odors.
Built with a ¼-horsepower, 115 VAC variable speed electric motor and a large 16-inch (406.4 mm) diameter inlet

for improved air flow and maximum filter surface area exposure

, the AF500 offers adjustable air flow rates up to 500 CFM (14.2 CMM).

The larger inlet provides low power consumption, requiring only 1.9 amps compared with 8-inch inlet models.

Weighing only 33 pounds (15 kg), the air scrubber is

more compact and up to 10 pounds lighter than most competitive units,

making it easier to position about the jobsite.
It's also designed to be stackable.

The UL certified air scrubber uses an

integral GFCI outlet with 12-amp breaker,

allowing

up to four units

to

be daisy-chained together

while

connected to one outlet.
Standard

lay-flat

ventilation ducts connect to the 10-inch (254 mm) outlet for negative/evacuation air flow applications.
For maximum durability, the AF500 housing is constructed of high-density, UV-resistant polyethylene. This helps contribute to its quiet 56 to 72 dBA operational sound levels, which is equivalent to a standard air conditioner.
A clean filter indicator light tells the operator when the filter needs changing to maintain optimum air flow and maximize performance.
Request More Information
Fill out the form below to request more information about
General Equipment AF500 AIR-SCRUB-R Portable HEPA Air Filter