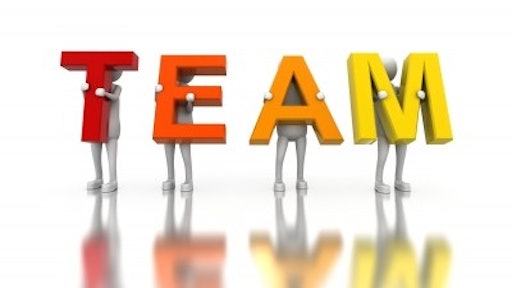 freedigitalphotos.net
One of the biggest expenses for most companies is their staff. Paying salaries and insurance benefits — as well as other expenses like uniforms, equipment and vehicles — add up to a large percentage of any company's revenue. When you look at those numbers, it can be easy to get in the mindset that you're already spending enough, or even too much, on your employees.
Thinking that way, however, is a disservice to your staff and your company as a whole. You have to view those expenses as the absolute bare minimum, and to avoid problems like high turnover, low motivation and team discord, you have to strive for more than the bare minimum.

With high turnover, you need to consider the overarching cost to your finances, your team's morale and your company's overall productivity. Having to replace just one employee costs a company a lot of money — up to 20% of an employee's annual pay.
Being understaffed puts more stress on the employees who stick around, which may push them to consider other employment opportunities as well. If your team is unhappy because they aren't being appreciated or their needs aren't being prioritized, more people will leave for other companies offering better pay, benefits or perks; and that cost will just keep rising.

To avoid the vicious and expensive cycle of turnover, business owners must prioritize team culture. This can mean different things for different companies, but it has to start with an honest and open conversation about your company's current culture, including its strengths and areas in need of improvement.
Gathering that information from your staff's perspective, perhaps via an anonymous survey, is vital to make any progress. Once you have that knowledge, you need to set aside time — whether it's with your whole company, the management team or an outside consultant — to figure out a solution. This conversation should include allocations for the time and resources you're going to invest to ensure the fixes last long-term.

Here are a few steps companies can take to invest in their culture:

1. Customize your approach based on your team
It would be great if there was a one-size-fits-all solution for team culture that could be replicated in every workplace. Unfortunately, that isn't the case. Every team is full of different personalities, experiences and working styles. Take the time to have your employees do a survey, sit down with them for one-on-one interviews or set up some combination of the two with a third party so they can talk about the things that are important to them.
For some companies, something as simple as monthly happy hours might go a long way in boosting team morale. Some team members might prefer being consistently acknowledged for their day-to-day accomplishments, while others would be uncomfortable with that kind of recognition. As a leader, it's your job to understand your staff's needs and do whatever you can to meet those needs.

2. Keep your teams together as much as possible
Whenever possible, build teams and keep them together on their projects. In the team-centric construction industry, it's important for people to get to know each other, become familiar with each other's communication and working styles, and build camaraderie.
By keeping our crew members mostly working on the same teams, productivity increased substantially because no one has to guess who they are working with or figure out who they should check in with each morning. Once they clock in, they can just get right to work, which saved my company roughly $50,000 of production costs in the first year.
Read next: Measuring and Tracking Recruiting and Retention Success

3. Know your employees
It's important to get to know the individual personalities, preferences and communication styles of your staff. When hiring new people, think through your current teams and where that potential team member would fit in best.
I have personally experienced at least two instances in which keeping clashing personalities on separate crews saved four team members from being aggravated enough to quit. It costs my company $2,000 to hire and onboard one new employee, so we saved at least $8,000 by being aware of personalities and adjusting accordingly.
People who understand each other, work well together and know how to communicate effectively with one another are much more likely to give full effort and stick with a company.

4. Consistently reward good work
Team building and staff appreciation cannot just happen once a year, e.g. during the holidays, or at a random pizza party when morale is low. It has to be a continuous and earnest effort.
Reward employees with bonuses for things like perfect attendance, highlight teams in staff meetings for exceeding expectations, or share a portion of the profit when a project is completed under budget. Everyone needs to feel appreciated for their work; and consistent, tangible rewards will help make sure your employees don't forget that throughout the year.
It's safe to assume bonuses and a bump on your employees' paychecks will be highly motivating, but don't be afraid to ask them directly what they would most appreciate in the surveys and one-on-one conversations you conduct to get a feel for the current culture.

5. Be honest with your staff
If you're having a tough year or lost a lot of money on a project, share that with your employees. If you're excelling or secured a much-needed contract, share that with them, too. Respecting your staff enough to let them in on how the company is actually doing will not only build mutual trust, it will help them understand why things are being handled a certain way. Transparency is always your best bet.

6. Create an "innocent until proven guilty" atmosphere
In our industry, it seems like we continually see a lot of the same issues: tardiness and absenteeism, workers taking advantage of tracked time or reimbursements, drug test failures, and a multitude of other problems. It can be easy to get frustrated by these recurring issues and create rigid policies that allow no flexibility or room for error.
Life happens, and people need to know that if they get a flat tire on their way to work or make a mistake on their timesheet, the reaction isn't going to be unfairly harsh. Employees who always feel like they're on trial aren't going to do their best work, and they definitely won't feel any affection for their coworkers or company.
It's important to have systems in place to deal with repeated offenses from the same employee, but be careful not to blame years of dealing with the same problem on someone who may not even be at fault.
Read next: 7 Tips to Improve Your Construction Company's Culture
The construction industry is thriving, unemployment is low and there are more opportunities than ever to succeed. Now it's time to focus on creating policies that keep our employees on our teams for the long haul and help us build our companies.
Investing additional time and money into staff may seem like an unnecessary expense but a strong culture not only leads to more productive, happier employees in the short term, it leads to deeper trust and lower turnover in the long term. These are simple things that make a big difference, especially for small businesses.

Bob Lester is president and CEO of Dura-Seal, a sealcoating, asphalt and concrete services company. He has worked in the paving industry for over 20 years, leading two buyouts, an acquisition, and the sale of an equipment manufacturing company at Dura-Seal. Prior to joining the company, Lester studied business finance at Otterbein University.
Companies in this article