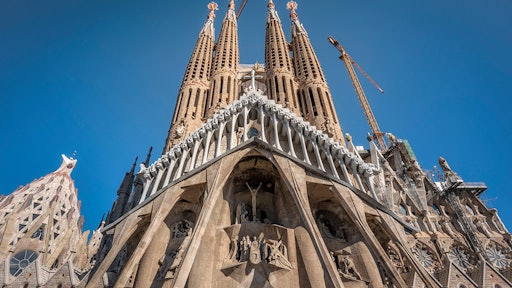 Basilica de la Sagrada Familia
More than 130 years after the first stone was laid for the Sagrada Familia cathedral — and with the proper building permits finally in place — the end is in sight for the Barcelona basilica. Thanks to an influx of funding, some striking innovations and a lot of old-fashioned craftsmanship, the famously unfinished church is now on schedule to be completed in 2026, the 100th anniversary of the death of its architect, Antoni Gaudí.
Today, more than two dozen architects are working on the project — most of them local Catalans — and 200 workers in total are involved in construction. But making the deadline will mean overcoming technical complications, theological doubts and several blocks' worth of outraged residents.
Prefabrication off-site of the stone panels that make up the towers has been essential to speeding up the rate of construction by a factor of 10 so that the cathedral can be complete by 2026
"There's a symbiosis of high tech and traditional artisanship in every component," says Fernando Villa, the Sagrada Familia's director of operations. "The process of bringing them together is modeled on an automobile assembly line. Everything is done just in time."
(more on the Sagrada Familia's technical, financial, legal and social challenges . . . )