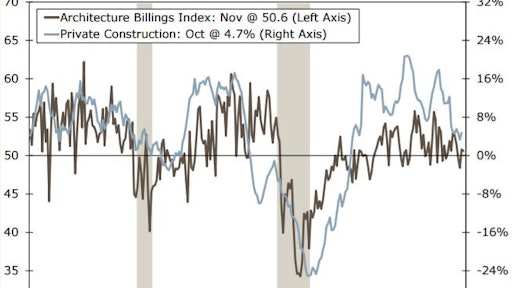 The Architecture Billings Index (ABI) calculated by the American Institute of Architects slipped 0.2 points to 50.6 in November, almost unchanged from October's 50.8 print, marking two consecutive months of positive demand.
New project inquiries jumped 4.1 points to 59.4 and design billings returned to expansion territory. The Wells Fargo Economics Group expects strength of commercial building to lift private nonresidential outlays 5.6 percent in 2017, after a projected 7 percent increase in 2016.
"There is still some uncertainty surrounding fiscal policy, leaving some investors hesitant," according to Wells Fargo's analysis of the index data released by the American Institute of Architects.
Residential and mixed-use billings both rose 1.3 points to 51.7 and 51.3, respectively, and point to more growth in these sectors.
Commercial/industrial and institutional billings saw gains in November, but the latter remains in contraction territory.
The South was the only region to see a decline, falling to 51.3. The Northeast had the largest gain, increasing 2.2 points to 50.8, while the West's 0.1 increase to 48.6 was not enough to push it above the 50 line into expansion territory.