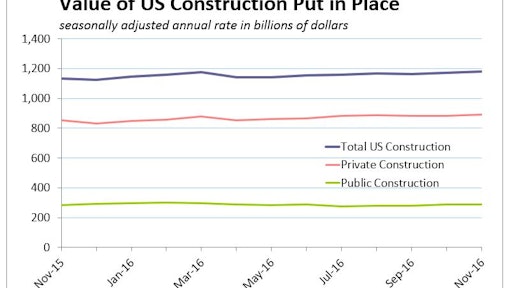 In contrast to weak new construction starts in November, the total nominal value of U.S. construction spending put-in-place grew 0.9% in November, beating the consensus forecast at a seasonally adjusted annual rate of $1,182.1 billion.
The three-month moving average increased 0.4% during the month and is up 2.8% year over year, indicating activity is still strengthening. On an inflation-adjusted basis (Index=2016), total outlays are up 2.4% relative to a year earlier and are on track to increase about 3.5% in 2016.
The stronger-than-expected reading was due to an increase in private and public construction, with activity firming 1.0% and 0.8%, respectively. Total public construction is up 2.6% year over year, with much of the increase concentrated in highway and street spending and educational, the two largest sectors.
In its analysis of the November spending estimates, the Wells Fargo Economics Group pointed out that while President-elect Donald Trump promoted infrastructure spending on the campaign trail, "While we do not expect the package will be as large as initially reported, we expect some pick up in the coming years."
Private residential construction edged higher in November with the help of single-family and home improvement.
"Based on the trend in housing starts, we expect to see continued gains in single-family and moderation in multifamily," Wells Fargo forecasts.
The trend in private nonresidential activity continues to show strong gains in commercial construction, while manufacturing remains weak. Through the first 11 months of 2016, commercial construction climbed 19.1%, while manufacturing was down 3.4%.
Year-over-year comparisons of manufacturing construction spending may prove problematic, as the sizable $8.1 billion Sasol ethylene cracker and derivatives complex in Louisiana broke ground in 2015.
According to Dodge Data & Analytics, some of the largest projects started in November included the $1.4 billion ethylene plant in Louisiana, the $3.0 billion football stadium for the Los Angeles Rams in Inglewood, CA, the $1.7 billion Mid-Coast Corridor Transit Project in San Diego, CA and the $2.1 billion Elba Island Liquefaction Project in Savannah, GA.
Despite the recent monthly increase, forward-looking private nonresidential construction indicators, including the Architecture Billings Index (ABI) and Dodge Momentum Index (DMI), suggest some moderation in activity is in the offing. On a three-month moving average basis, the ABI registered its third-straight month in contraction territory, and the DMI tumbled in two of the past three months. Much of the weakness in these indicators is concentrated in the institutional sector, especially health care as medical building and special care registered weak readings.
"We also expect some moderation in office building from its breakneck pace, as operating fundamentals are slowing," Wells Fargo points out.
November US Housing Starts Give Back Much of October's Spike
November Nonresidential Construction Spending Hits Highest Level in 8 Years