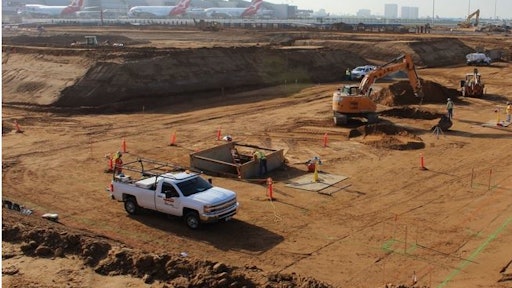 The final parcel of land necessary for development of a new airfield concourse at Los Angeles International Airport (LAX) was turned over to construction crews this month after an enabling project concluded on-time and $8 million under budget.
Demolition of a former Coast Guard hangar and other structures on the airfield clears the way for construction of the Midfield Satellite Concourse (MSC), a vital construction project designed to enhance the passenger experience and improve airline efficiency.
Turner/PCL Joint Venture, building the 750,000-square-foot project on behalf of LAX owner Los Angeles World Airports, awarded Granite Construction a $59 million subcontract that includes demolition of 80,000 cu. yd. of concrete and asphalt surfaces, demolition of 13,000 ft. of utilities, more than 350,000 cu. yd. of mass grading, structural excavation and backfill, and installation of over 28,000 ft. of new domestic and fire water, storm drain, sanitary sewer, and natural gas utilities, along with nearly 3,000 cu. yd. of utility structures including the construction of five pump stations.
Expected to be completed in late 2019, the MSC is a planned $1.6-billion, five-level facility which will provide the nation's second busiest airport with 12 new gates, serving international travelers in and out of the Tom Bradley International Terminal (TBIT). The 750,000-sq.-ft. concourse will be located west of TBIT, connected by a 1,000-foot-long underground pedestrian tunnel with moving walkways.
Construction is also beginning on the Gateway building that will connect to the passenger tunnel between the TBIT and the MSC.