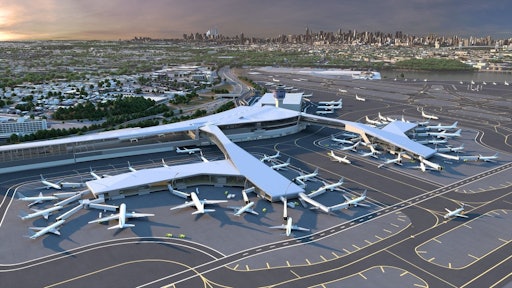 LaGuardia Airport
The Airports Council International–North America, in its latest five-year outlook, projects that airports will generate about half of the dollars necessary to meet the estimated $100 billion infrastructure investment needed between now and 2021.
It's a problem that will only worsen. The International Air Transport Association predicts that the number of air passengers worldwide could double by 2035. "It's a huge uptick," says Dwight Pullen, a senior vice president at Skanska USA and director of the contractor's Aviation Center of Excellence. "Airport infrastructure needs are completely on the rise. In my time in the industry, the last 20 years, I've never seen anything like this in the US market."
Skanska is one of several firms tackling a lot of airport work, including terminal rebalancing at Oregon's Portland International Airport; concessions expansion at Tampa International Airport in Florida; enabling projects prep for a midfield satellite concourse at LAX; a new AirTrain station and expansion of a boarding area at SFO; and the $4 billion P3 project to upgrade New York City's LaGuardia Airport.
Like all airport builders, Skanska is looking for ways to pick up the pace of such work now that there's more of it, and below Pullen lays out a few of them.
Alternative delivery methods

More engagement with regulators

Rethinking project phasing

Implementation of new technologies